Yearbook Advisers of Note: Meet Susan McNulty
Written by Jim Jordan
We're excited for you to meet our September 2020 Adviser of Note: Susan McNulty, CJE, the award-winning yearbook adviser from J.W. Mitchell High School in Trinity, Florida. At Walsworth's Virtual Summer Workshop, McNulty held a session on getting your virtual classroom set up for this fall. You can watch "Remote Start to the Year: Building Your Virtual Classroom" on our Back to School page. You can learn more about McNulty in her interview with Jim Jordan for the Yearbook Chat with Jim podcast.
Profile
Susan McNulty, J.W. Mitchell High School, Trinity, Florida
 High school attended: Boone High School, Orlando, Florida
College attended: Florida State University, Tallahassee, Florida (Bachelor's in English Literature) and University of South Florida, Tampa, Florida (Master's in Library and Information Science)
Did you participate in journalism in high school? No, and it was my loss!
Did you participate in journalism in college? No
What were you doing before you became a teacher and a yearbook adviser? I am a life-long educator. I started teaching English to high schoolers at age 21, one month after I graduated from Florida State.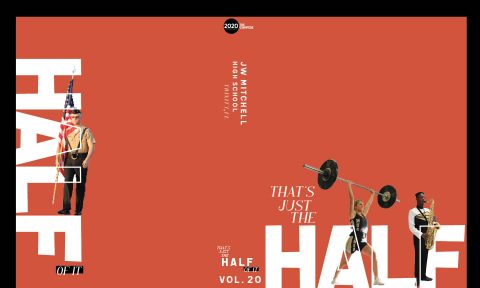 Size of your book: 9
Number of pages in your book in 2020: 414
Number of pages in your book in 2021: 328 (But it could grow!)
Student Population: 2050
Number of books sold in 2020: 875
Awards for the 2019 book: All-American from NSPA, Gold Medalist from CSPA, All-Florida and Sunshine Standout from FSPA
Number of books you have advised at Mitchell including the 2021? 7
Other schools you have taught and/or advised at: Hollins High School in St. Petersburg, Florida for one year before I was laid off due to budget cuts. I was a new teacher without a continuing contract.
Other classes you teach at Mitchell: Newspaper and Journalism 1 (Intro to Journalism)
 What other activities are you involved in and outside of your role as teacher and adviser?
I am an avid boater and enjoy any time on the water I can get. We have a fishing boat and kayaks and a paddle board. If I am not walking the beach, I am probably on a boat somewhere.
Q&A
How and why did you decide to go into teaching? advising?
Fresh out of FSU, I began my internship at Hollins High School in St. Petersburg, Florida. At the time, I wasn't sure I wanted to become a teacher, but an internship would allow me to delay the responsibilities of adulthood a few months longer. During those three short months, I fell in love with the teaching profession. I enjoyed everything about my job as an English teacher, from the students, to the lesson planning, and the daily challenges and excitement of working in a high school. At the end of my third year at Hollins High, the journalism teacher left the school and the principal asked me if I would like to be the new yearbook adviser. I thought it sounded like a fun challenge, and I was right.
How and why did you first get involved with scholastic journalism?
I only served as the yearbook adviser at Hollins High School for one year. After my third year teaching, the state faced deep budget cuts. Because I was not yet on a continuing contract, the principal could not protect me from a layoff. I spent that summer searching for any opportunity to continue in education. I was hired as a middle school Media Specialist, a role I would love and keep for the next 20 years at three different schools.
What was the most difficult part of your first year advising?
The hardest part of being a first-year adviser was not knowing what I didn't know. Yearbook was a foreign language to me, and I wanted to become fluent by the first week of school.
I feel as though I have had two first years advising, because they were so far apart: 1991-92 and 2014-15. I had no idea what I was doing when I took over yearbook in 1991. We only had 3 computers in the classroom, and we submitted all camera-ready artwork by mail to the publisher. My editors had been well taught by their previous adviser, and those kids saved me that year. The three of them got us through that year, and I remember admiring them and having so much fun learning from them. I also remember spending many hours together to produce a book we would be proud of.
They say history repeats itself, and it did for me, because in 2014 when I took over yearbook once again, I took the place of a beloved adviser with a strong program. This time my own daughter had already been named co-Editor-in-Chief with a pair of twin sisters. The three of them taught me everything they knew about yearbook, and it was a lot. In 2014, obviously everything was different than it had been 23 years earlier. Now we used InDesign, the internet, digital cameras and smart phones to complete much of the work. Those three girls took the lead, and our 2015 yearbook earned a Pacemaker finalist.
What made you want to come back for year two?
I only served as the yearbook adviser at Hollins High School for one year. After my third-year teaching, the state faced deep budget cuts. Because I was not yet on a continuing contract, the principal could not protect me from a layoff. It took 23 years for me to return to the journalism classroom. Some of that time was spent as a stay-at-home mom to two wonderful girls. I came back for year-two when my oldest daughter was beginning her senior year and had already been named Editor-in-Chief by the previous adviser. I came back because I remember loving yearbook – the creativity, the technology, the design and writing. All of it appealed to me. But more than the work, I was excited to come back for the kids. I looked forward to having my own students and my own classroom after running media centers for 23 years.
What advice would you give to a first-year adviser?
Look for strengths that already exist and use them. For me, that was using what the previous adviser left for me, and trusting the experienced students in the class. There are so many resources out there to help advisers, and it seems these resources have exploded thanks to the pandemic. Look for what works for you, and use it.
 What were some of the factors that have led your success as an adviser?
Our school has a tradition of excellence when it comes to our publications. That reputation has definitely helped lead to the success of our newspaper and yearbook. Students don't enter the class lightly. They feel a responsibility to continue the tradition of producing award-winning publications. I relied heavily on the curriculum and classroom methods left for me by the previous adviser, the amazing Sabrina Schmitz, now a rep for Walsworth. Each year I try to tackle one challenge and make it work for me. One year it was grading, another year it was ad sales, this year it is cloud photo storage. Each year things get a little better and a little easier.
What has been your biggest challenge as an adviser?
At first, my biggest challenge was finding a work-life balance. Yearbook can consume every waking hour of your day. And when the EIC was my daughter, we brought work home every night. We stayed at school for many long hours over many weekends. After she graduated, I still did not pull back on the number of hours I was putting in. It wasn't until year three that I got a handle on deadlines and learned to spread out the responsibilities so that we didn't have too much due at any one time. This allowed me to set some necessary and positive boundaries in terms of work nights and weekends.
Finishing the book under Corona quarantine
 What was your biggest challenge in completing your 2020 book?
When COVID hit, we had just submitted our final pages for proofs. Once the proofs arrived (shipped to my house instead of the school) we worked through Zoom, emails, OneDrive and phone calls to finish the book. My biggest challenge was getting work back from a handful of students. My EICs and most editors never gave up and we met our final deadline.
 What positives came out of the process of finishing the book?
We were able to include COVID coverage on 6 spreads in the book, and we were proud of that. We felt a responsibility to tell the story of the year, and by revising some last-minute spreads we gave the Class of 2020 a book that reflects their reality for fourth quarter. The editors also felt a sense of pride and camaraderie.
 Starting the 2021 book
 What is your 2020/21 school schedule looking like? Are you coming back online or in person or a hybrid? Students had the choice to take online classes, and about 20% of our student body did. My classes are back 100% in person. Our principal made the decision that her teachers would not teach online and in person at the same time. If enough students chose online in any given subject, then a teacher would be assigned to teach that one class period online only, with no students in person. I didn't have enough students choose online journalism to justify an online class period. I have a few students who are still on staff but not in the class, and I have a few who dropped off of the staff when they decided to take all online classes.
How are you and your staff preparing to start the year?
We met virtually several times this summer, and my EICs and a few others attended Camp Orlando. We will participate in Elite Weekend this coming weekend, and we are so excited!
What are your biggest concerns and how are you solving them?
Our biggest concerns right now involve theme development and visual/verbal connection. My EICs are struggling to come up with design ideas that convey what they want to say, while staying modern and creative. To help us solve this problem we are bringing lots of ideas to Elite Weekend on Friday for feedback. Then we invited a college student who was EIC in 2019 to join us on Saturday for design help. She's an expert at PhotoShop and she'll give the current EICs the training they missed out on when we lost quarter four last year.
Looking forward
Even though 20-21 is so different, what are you looking forward to this year?
I love being with the students in person again, even with masks on. Yearbook is a collaborative activity, and creative juices flow more freely when we are working together in person.
What words of encouragement can you offer to advisers around the country?
Do what you can do, but don't stress about what you can't get to. There have been so many fabulous resources made available to us from great companies like Walsworth. There just aren't enough hours in the day to explore them all. I tend to beat myself up over webinars, workshops and conferences missed, but I am learning to let that go, and use what I need in the moment.
Tell me a story that is indicative of your life as an adviser, about something that made you proud or a moment in your career that you will never forget.
One of the best parts of being an adviser is taking students on trips far from home. It has been my pleasure to take students to Los Angeles, Seattle, San Francisco, New York City and Washington, D.C. for JEA/NSPA and CSPA conferences. Before each trip, I spend hours planning out our itinerary down to the minute to make the most out of every conference and every city. And even though these trips are planned out, I want my students to know that part of traveling is seeking out unexpected experiences. Before Los Angeles, I reached out to a friend for advice about interesting places to eat that wouldn't break the bank. She told me about a little café in the Hollywood Hills, and she said to watch out for celebrities. There were only about 5 tables of people at the café when we arrived after a late afternoon of hiking to the Hollywood sign. About halfway through our dinner, we recognized Bellamy Young, star of the television show Scandal, having dinner just a few yards away. After she finished her meal and was preparing to leave, I introduced myself and the students to her, and she could not have been more gracious. She hugged every one of us and posed for a picture with the whole group.
In April of 2017 I took a group to Seattle for JEA/NSPA Spring Conference. On the plane on the way there I sat next to the head PR guy for Monster Energy drinks, heading to Seattle for the Supercross race. He was intrigued that I was travelling with 8 teenagers, and he wanted to make our trip special. He left us front-row pit tickets for the Supercross, which was held at CenturyLink Field on our last night in Seattle. The kids repaid him by tweeting about their experience on the track.
I learned from my mother that when you travel, if you don't have the time and money for every museum, try to visit the gift shops. You can get a feel for what's in the museum in a short period of time without paying a dime. In Seattle, we headed to the Pacific Science Center gift shop before our scheduled Space Needle tour. Once at the entrance of the museum, a nice young woman informed us that the museum, including the store, was closed to everyone except the press because the Terracotta Warriors exhibit had just arrived from China, and it was press preview day. We had a nice chat at the gate, and I told her that we were, in fact, press, in town for a journalism conference. She got on her radio, and the next thing you know we were rubbing shoulders with reporters from The Seattle Times and other news outlets as we explored the exhibit before it opened to the public. The students had studied about the warriors and couldn't wait to send pictures to their history teacher back home.
I wrote a blog post for SPRC about attending national conferences, because it has been such a rewarding and important part of my role as adviser. This year, the fall JEA/NSPA workshop will be held virtually. I am on the committee and hope that more students will be able to participate since the cost and commitment will be more manageable.