Yearbook Advisers of Note: Meet Courtney Hanks
Written by Jim Jordan
Earlier this year, Courtney Hanks was named a Rising Star by the Journalism Education Association.
Now she's our latest Adviser of Note. Hanks was also featured on an episode of the Yearbook Chat with Jim podcast. You can find the episode at walsworthyearbooks.com/podcasts.
During the episode, Hanks went into the details of the design and theme choices that went into the 2018 University yearbook. We've shared that portion of their conversation here. Take a listen!
Profile
Courtney Hanks
University High School, Orange City, Florida
College attended: I graduated from the University of Central Florida in 2011 with a bachelor's in English, creative writing track. The first two years in college though I was a fine arts major.
High School attended – in what state and city: DeLand High School in DeLand, Florida. I graduated from the IB program there in 2007.
Did you participate in journalism in high school–what publication and your role? I actually didn't. One of my classmates suggested I join, but I was too nervous to bring my application to the adviser.
Size of Your Book: 9
Number of Pages in Your Book in 2018: 336
Student Population: 2,700
Number Sold in 2018: 650
Other Classes You Teach: I teach Journalism 1, alongside the yearbook and news classes.
Number of Books You Have Advised at University? I am currently advising my fourth book at University.
Number of books advised at other schools? I advised a book at Heritage Middle School for one year prior to coming to UHS.
Q&A
What have you enjoyed most about advising a yearbook?
More than anything, I've enjoyed watching my students grow from unsure, self-conscious kids to self-assured leaders within the school community. The arrival of the yearbook is amazing. Distribution can be extremely satisfied. However, nothing gives me the reassurance that what we are doing is important and good more than witnessing the growth the staff experience from year to year. A speck of something I thought I saw in a freshman becomes the driving force of the staff in their junior and senior years. The fact that I get to be a part of the process of them becoming who they are going to be is the gift that advising gives back to me.
What has been the most difficult part of advising for you?
Like many advisers, I struggle most with time management. I want to say 'yes!' to every project and idea that comes my way in my advising and my personal life. I often end up having to choose between doing one thing well or everything mediocre, which is uncomfortable. I can disappoint myself. It's a hard-fought lesson, and I'm still learning. It helps me to pick a few goals for the year to aim at, rather than just trying to be better at everything. I work to establish boundaries with my students that include breaks at night and on the weekends. I pick and choose what projects I want to invest my time in.
What advice would you give to a first-year adviser?
Don't expect anything to change unless you show them what's possible. It's easy to fall into the trap of excuses, disappointment and frustration with a staff that fights you or isn't experienced. Don't. Take a deep breath, acknowledge your problems (they are real), but move forward anyway. Celebrate small victories when you can. Every time something right happens, you've shown them what's possible. Every time you work through a tough situation, you've shown them what's worth it. Every time you're patient with them, you've shown them what they are capable of. You will be amazed at how much they learn by just watching you. Be careful of what they see.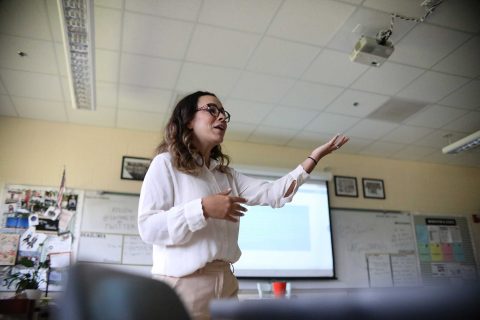 What made you want to come back for year two?
The possibility of what is next drove me to come back, still, after the struggle of year one. We could take all of our experience and the lessons we learned and apply them to a second book. We were eager to the point of blindness. Looking back, it was probably the most successful year we had in terms of meeting deadlines. In a way, I grew up as an adviser with that staff. It was the first really competitive book we had, and we received a silver crown from CSPA for it. It was a beautiful, meaningful confirmation that we were on the right track.
What keeps you coming back each year?
I can't imagine doing anything else. It's worth it, always, when you watch the kids open the boxes and fill with pride. When you see the school fall in love with their own stories, there just isn't anything else I've experienced in my professional career that compares. Having this project that I get to share with a bunch of kids for a year is wildly fun, important and significant to me.
Tell me about something in your adviser life that has made you proud.
We hosted our first banquet this past May. We've been working on building traditions from year to year, and this was the first time we felt brave enough to attempt it. I thought at first that it might be a special way for the kids to reflect on their yearbook and news careers. I didn't consider how much it would mean to me to see them do that. Hearing them talk about what the experience was for them – how it shaped them – how much it meant – was incredibly moving. I was astounded and beyond proud of what they accomplished and who they became in the few years I had known them.
What goals have you set personally and for your program?
We set goals at the end of the school year based on a list of problems from the year prior. We call it the problem-solution list. I hate hearing people complain without offering solutions. Everything we do is an experiment, and if it fails, we need to change it. For this year, we are focusing on our systems for student feedback. We've incorporated ways to give feedback after every assignment after identifying that as one of our weakest areas last year. Because we pushed them from deadline to deadline without leaving room for feedback, they didn't know what they were doing right or wrong. The problems they had on their first spreads were the same problems they had on their fourth spreads. By that point, we were swamped without the time to correct the error. This year, we built in time and systems for conversations individually and in groups to improve during and after each deadline. We also use our critiques from NSPA, CSPA, and FSPA to set a few goals for the book. After students self-score the book, they decide what needs to be improved for the following year.
How have you been able to build your program so quickly?
There wasn't any magic dust. Like most things in life, it was hard work when we didn't always feel like doing it. It was making the right calls when we weren't sure they were right. And, yeah, some of it was luck. When I started at University, we had three working entry-level Canon DSLRs, a staff of students who were randomly selected to be in the class, and I was coming from a middle school where I was just dipping my toes into the yearbook universe. That first year, I was a sponge. I learned how to use InDesign with my kids by watching tutorials. I went to Camp Orlando and wrote down every word Renee Burke said. I found the few kids who would do the work and we learned together. We laughed a lot, even when our hard drive crashed a week prior to our first deadline. We stayed passionate. We embodied the concept of grit. I have been unbelievably lucky in my Walsworth representative Tracy De La Feuilliez, who gently nudged me along the way. It hasn't been easy, but we've been able to increase our profit, purchase additional equipment, go to more camps, participate in more journalism associations and do the work to get better and better. It has to be all of our goal, not just mine, to improve ourselves and the program at every opportunity. That's our staff culture now. That's what drives our success.
Tell a story that is indicative of your life as an adviser.
I wish I had a single story for this. It all blurs together into a mass of memory of giggle fits about some dumb joke, trying to figure out if we have any snacks, arguing about who used the last plastic fork, searching for a missing SD card, worrying about some parent email, filling out some paperwork, uploading that one slideshow so-and-so needed to Basecamp, answering questions on Slack, taking a minute to talk about the Twitter post from last night that was worded awkwardly, printing out another copy of ad paperwork because they lost it, and trying to find a minute to input attendance. Sometimes it's the phone call at 11 p.m. that no, you aren't on your way home yet because there is still too much to do. Sometimes it's glowing with pride at the accomplishment, big and small, of a struggling student. It's not a single story, and in a way, it is.
Tell a story about a moment in your career as adviser that you will never forget.
We had this saying my second year, "Boone wasn't built in a day." We thought it was the funniest thing, but it was rooted in truth. Boone High School is about thirty minutes from us. When I first went to Camp Orlando, I took a class with Renee Burke for advisers. I was floored by all that she accomplished with a population like ours and a school like ours. She showed me what was possible, and I took my notebook of notes and did what I could that year. We used their books as examples of what to do right. I won't forget that first class and listening to Renee, and I won't forget what it taught us. Another piece of advice I would give advisers is to find your Renee and find your Boone. We all need to find things that inspire us to achieve more while remembering nothing is built in a day.
You recently were named a JEA Rising Star. How were you selected? What was the nomination, selection process like?  How did you react to the news?
Mike Taylor nominated me for Rising Star after working with my staff each year at Camp Orlando and Elite Weekend. He had gotten to know us during this time, and I felt so honored that he chose me for this. Afterwards, I completed a series of questions and gathered the application requirements. It seemed like a long-shot. The JEA has been an invaluable resource since I first began teaching journalism, and I felt privileged to be nominated. When the phone rang to tell me the news, I almost didn't answer since I didn't recognize the number. I did pick up though, and other than holding back tears and muttering a few stunned thank you's, I didn't give my husband any indication of what was happening during the call. When I hung up and told him, his confusion turned to excitement to match mine. I immediately called my rep Tracy to celebrate the news with her. The next day, she surprised me with flowers and hugs at work. I cannot express how meaningful it all is to me, and how valuable the relationships I've built within the yearbook community have been to me in and out of the classroom.
To see more of University High's 2018 yearbook, take a look at their entry in our 2018 Theme Gallery.