Yearbook Advisers of Note: Meet Becky Tate
Written by Jim Jordan
Becky Tate, CJE, has journalism in her blood and an amazing pedigree to prove it. She started her scholastic journalism odyssey when she joined both the newspaper and yearbook staffs at Shawnee Mission North High School in Mission, Kansas, guided by long-time publications legend Nancy Hall.
Tate attended Kansas State University where she worked with another renown adviser, Dave Adams, for three years. After college she was back at North to student teach and then started advising there 29 years ago. She is an inspiration to anyone who has worked with her, including five former editors who have become yearbook advisers.
Profile:
Becky Tate
Shawnee Mission North High School
Number of Students in Your School: 1,500
Number of Years Advising: 29
Number of Pages in Book: 332
Number of Books sold in 2017: 1,000
Other classes you teach: Journalism 1, Newspaper, Editorial Leadership, Photojournalism
College Attended: Kansas State University, B.S. in journalism and in secondary education; University of Kansas, masters in journalism
High School Attended:  Shawnee Mission North High School, Overland Park, Kansas (yup, that's right, I teach where I attended high school — every day is like Groundhog Day)
Where did you student teach? You guessed it, Shawnee Mission North. I've been right here at 7401 Johnson Drive since 1980, with a few years off for college.
Q&A:
Did you do journalism in high school? If so, what publication and what was your role?
I was on both the yearbook and newspaper staff in high school. I loved being on staff — mugs editor was fun, but I really liked being the advertising manager. We started the year in a deficit, and by the end we had enough money for spot color. I walked the streets selling ads and loved it.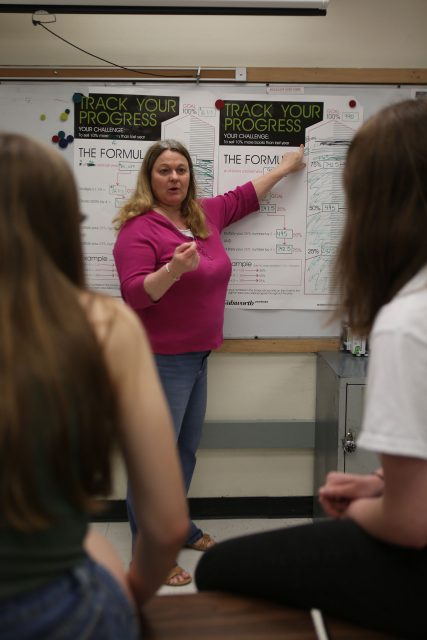 Why did you decide to become a yearbook adviser?
I had some awesome role models. In high school, Nancy Hall advised our publications to top awards. I was, then, lucky enough to work for three years at Kansas State University for the best adviser, Dave Adams.
Both of these advisers let their students take control of the publications, but were always there, offering guidance, criticism and praise. They expected the best and received it from their staffs. Those two inspired me to look at scholastic journalism for a career path. There might also be something in the water at SM North as at least five of my former students have become yearbook advisers — two in my own school district.
What made you want to come back for year two?
There was a choice? I always work for improvement — and you always need another year to improve.
What have you most enjoyed about advising yearbook?
After 29 years of advising yearbooks, it's always the relationships you build with others. Sometimes, you know right away that you've assisted a student or a colleague. Other times, it's years later, and you touch base with someone who tells you that you made a difference. That is, hands down, the best part of yearbook. Of course, watching kids open their yearbooks for the first time is pretty cool too. And the wedding announcements and birth announcements decades later — they always bring a smile to my face.
What has been the most difficult part of advising for you?
Saying no. It's really hard for me to say no. Does a student need an extra hour or two to work? Can I come in on a Saturday and spend the day? Can I help the office find some photos? Can I find space for another senior ad after the deadline? I try to always say yes, as that's the way I hope others would treat me and my family. It's taken quite a while, but I will sometimes say no now, but that's still really hard.
What advice would you give to a first-year adviser?
Have fun, meet your deadlines, help the kids stay organized and, most importantly, find a group of adviser friends to call when you have a question. And know that it's OK to call every day with questions.
What keeps you coming back each year?
We're still improving. Some years, we're almost there; others, we slide back a little. Either way, the kids are still working and learning about how to create meaningful publications in a digital world.
Tell a story that is indicative of your life as an adviser.
I live in the area where I teach. I've always found that whether it be the grocery store, dry cleaners or restaurant, students are usually more than helpful. When I first started teaching I was in a wedding and had taken the bridesmaid dress to the cleaners. The morning of the wedding an ice storm hit the area and the dry cleaner was closed. One of my yearbook students called me that morning and said she'd meet me at the cleaners to get my dress. That was just the first of many times students have shown me extra kindness outside the classroom — and I hope it's reciprocal of the kindness I try to share with them.
Another "adviser life" story is just recognizing all the students across the country you keep in touch with. Just this weekend, I was in a local store, greeted with a "Hello, Mrs. Tate." A mother of a former student recognized me and took time to update me on her daughter's post-college plans. A few weeks prior, I'd caught up with an editor from a decade ago while at the spring JEA convention, and a month before that, an editor from 2005. Just yesterday, I received a text from the 2000 editor.