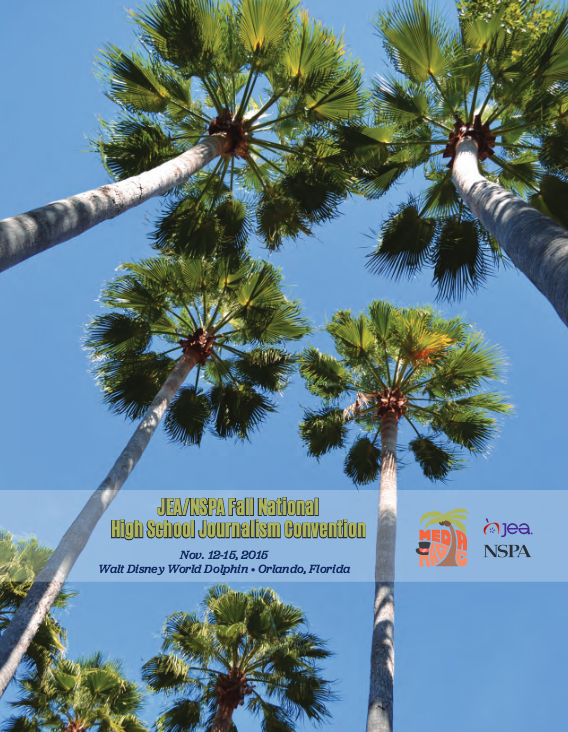 Eight Walsworth Yearbooks schools place in Orlando Best of Show
Written by Evan Blackwell, CJE
Eight Walsworth Yearbooks schools placed in the Best of Show contest this past weekend at the JEA/NSPA Fall National High School Journalism Convention in Orlando.
Legend from Boone High School in Orlando placed first in the Yearbook 337 or More Pages category. In the same category, Lair from Shawnee Mission Northwest High School in Shawnee, Kansas, placed second; and Hauberk from Shawnee Mission East High School in Prairie Village, Kansas, placed seventh.
In the Yearbook 289-336 Pages category, Indian from Shawnee Mission North High School in Overland Park, Kansas, finished in second place; while The Lion from McKinney High School in McKinney, Texas, placed fifth.
In the Yearbook 232 or Fewer Pages category, Excalibur from Robinson High School in Tampa, Florida, finished fourth. The Jungle Book from Andover Central High School in Andover, Kansas, finished ninth.
The Scrapbook from Westfield Middle School in Westfield, Indiana, placed second in the Junior High Yearbook category.
The full list of Orlando Best of Show yearbook winners can be found below:
Junior High Yearbook
Stampede, Maize South MS, Wichita, Kan.
The Scrapbook, Westfield MS, Westfield, Ind.
Jamboree, Toby Johnson MS, Elk Grove, Calif.
Eagle Eye View, Sierra MS, Parker, Colo.
The Nighthawk, Rocky Heights MS, Highlands Ranch, Colo.
Sentry, Robinson MS, Fairfax, Va.
Yearbook 232 or Fewer Pages
Le Flambeau, Notre Dame de Sion Prep School, Kansas City, Mo.
The Dragon, Johnston HS, Johnston, Iowa
Echoes, Wichita East HS, Wichita, Kan.
Excalibur, Robinson HS, Tampa, Fla.
Aquila, Freedom HS, South Riding, Va.
Saga, Parkway North HS, St. Louis, Mo.
Silhouettes, Plainfield HS, Plainfield, Ind.
Nexus, Inland Lakes Secondary School, Indian River, Mich.
The Jungle Book, Andover Central HS, Andover, Kan.
Sangraal, Benilde-St. Margaretâ's School, St. Louis Park, Minn.
Yearbook 233-288 Pages
Westwind, West Henderson HS, Hendersonville, N.C.
Lion's Roar, Christ Presbyterian Academy, Nashville, Tenn.
Details, Whitney HS, Rocklin, Calif.
Saga, Loudoun Valley HS, Purcellville, Va.
Westwind, Lewis-Palmer HS, Monument, Colo.
Log, Columbus North HS, Columbus, Ind.
Legacy, Green Valley HS, Henderson, Nev.
The Shadow, Cactus Shadows HS, Cave Creek, Ariz.
Paragon, Munster HS, Munster, Ind.
Belltower, St. Thomas' Episcopal School, Houston, Texas
Yearbook 289-336 Pages
Wingspan, James C. Enochs HS, Modesto, Calif.
Indian, Shawnee Mission North HS, Overland Park, Kan.
The Arena, Legacy HS, Mansfield, Texas
Summit, Smoky Hill HS, Aurora, Colo.
The Lion, McKinney HS, McKinney, Texas
Tigrium, Holy Trinity Episcopal Academy, Melbourne, Fla.
The Centaur, Strawberry Crest HS, Dover, Fla.
Howelltonian, Francis Howell HS, St. Charles, Mo.
Watchtower, Beverly Hills HS, Beverly Hills, Calif.
Shield, Thomas Downey HS, Modesto, Calif.
Yearbook 337 or More Pages
Legend, William R. Boone HS, Orlando, Fla.
Lair, Shawnee Mission Northwest HS, Shawnee, Kan.
Cornerstones, Hockaday School, Dallas, Texas
Lone Star, James Bowie HS, Austin, Texas
Hornet, Bryant HS, Bryant, Ark.
El Paisano, Westlake HS, Austin, Texas
Hauberk, Shawnee Mission East HS, Prairie Village, Kan.
Calumet, Arapahoe HS, Centennial, Colo.
Crimson, duPont Manual HS, Louisville, Ky.
Pioneer, Kirkwood HS, Kirkwood, Mo.