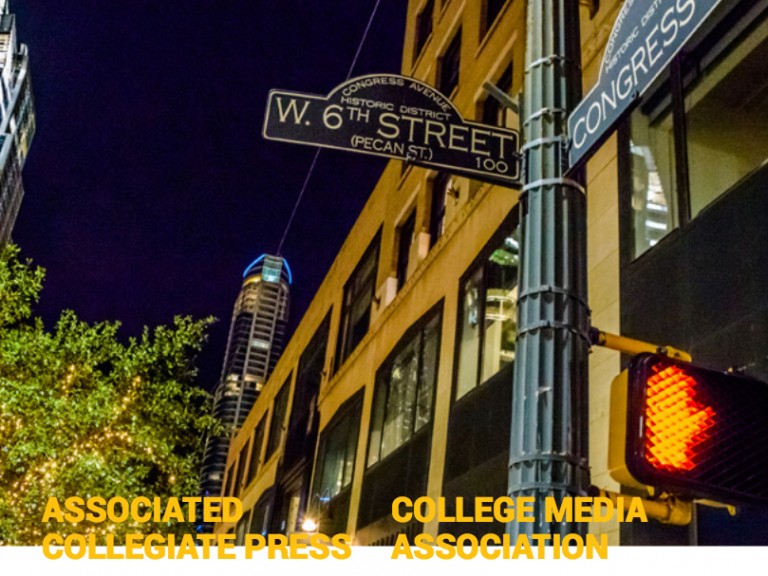 Four Walsworth Yearbooks universities place in ACP Best of Show contest
Written by Evan Blackwell, CJE
Yearbooks from four Walsworth universities placed in the Best of Show contest earlier this week at the ACP/CMA Fall National College Media Convention in Austin, Texas.
The Angelos from California Baptist University in Riverside, California, placed first in the Yearbook 1-299 pages category. Warbler from Eastern Illinois University in Charleston, Illinois, placed third, and Griffon from Missouri Western State University in St. Joseph, Missouri, placed fifth.
In the Yearbook 300+ pages category, Petit Jean from Harding University in Searcy, Arkansas, placed third.
The full list of Best of Show winners can be found below:
Yearbook 1-299 pages
The Angelos, California Baptist Univ., Riverside, Calif.
Crossings, Roger Williams Univ., Bristol, R.I.
Warbler, Eastern Illinois Univ., Charleston, Ill.
Citadel, Westmont College, Santa Barbara, Calif.
Griffon, Missouri Western State Univ., St. Joseph, Mo.
Excalibur, Evangel Univ., Springfield, Mo.
Ilium, Taylor Univ., Upland, Ind.
The Sunflower, Emporia State Univ., Emporia, Kan.
Edda, Augustana College, Sioux Falls, S.D.
Natsihi, Whitworth Univ., Spokane, Wash.
Yearbook 300+ pages
Arbutus, Indiana Univ., Bloomington, Ind.
Agromeck, North Carolina State Univ., Raleigh, N.C.
Petit Jean, Harding Univ., Searcy, Ark.
Round Up, Baylor Univ., Waco, Texas
Ibis, Univ. of Miami, Coral Gables, Fla.
Sooner, Univ. of Oklahoma, Norman, Okla.
Talisman, Western Kentucky Univ., Bowling Green, Ky.
Campanile, Rice Univ., Houston, Texas
Tower, Northwest Missouri State Univ., Maryville, Mo.
The Michiganensian, Univ. of Michigan, Ann Arbor, Mich.