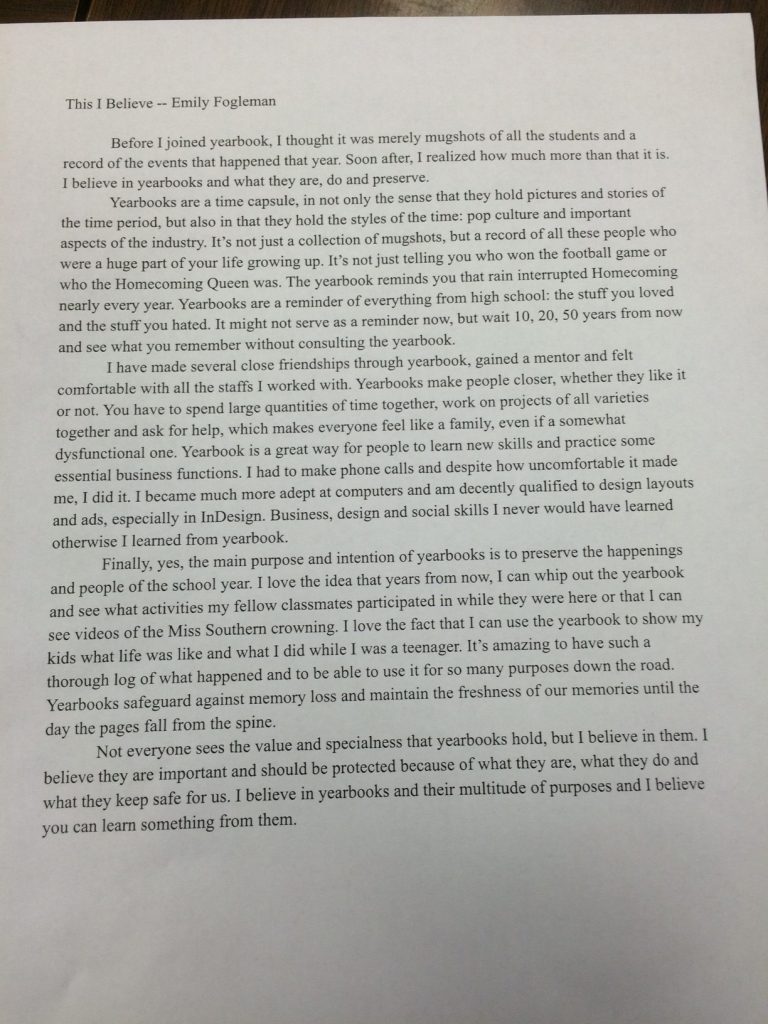 This I Believe – I believe in yearbook
Written by Elizabeth Braden, CJE
A writing assignment for an AP Literature class turned into a heartfelt essay about the meaning of yearbook.
Emily Fogleman spent three years on the yearbook staff at Southern Alamance High School in Graham, North Carolina, serving as editor-in-chief in 2016, her senior year. Last spring, her AP Literature class was assigned to write an essay in the style of National Public Radio's "This I Believe." Emily chose to write about yearbook.
Among the things Emily wrote in her essay (which you can see above), she said she made several close friendships and gained a mentor. On the last day of school, the AP Lit teacher gave the essay to Lynn Bare, yearbook adviser. Bare still tears up thinking about it.
Bare described Emily as a reserved person and excellent writer who signed up for yearbook to write. But students on the Southerner staff have to work on every aspect of yearbook.
"Yearbook forced her out of her comfort zone from taking pictures in front of crowds, to interviewing people to selling ads, especially selling ads. She struggled with that piece but by senior year, she did a great job with that too," Bare said.
"When she worked with her peers and had to give constructive criticism, she was much nicer than I because of her calm nature."
Bare is starting her 23rd year of advising yearbook. She said she has received a few letters, even a few notes on the backs of exams, from seniors when they graduate, or an email once they are in college and are applying the skills they learned in yearbook. Sometimes she runs into them, and they thank her for what she taught in yearbook.
"I get as much from the kids as they get from me and sometimes I feel like I get more than they do. They are like an extension of my family," she said.
Comments are closed.