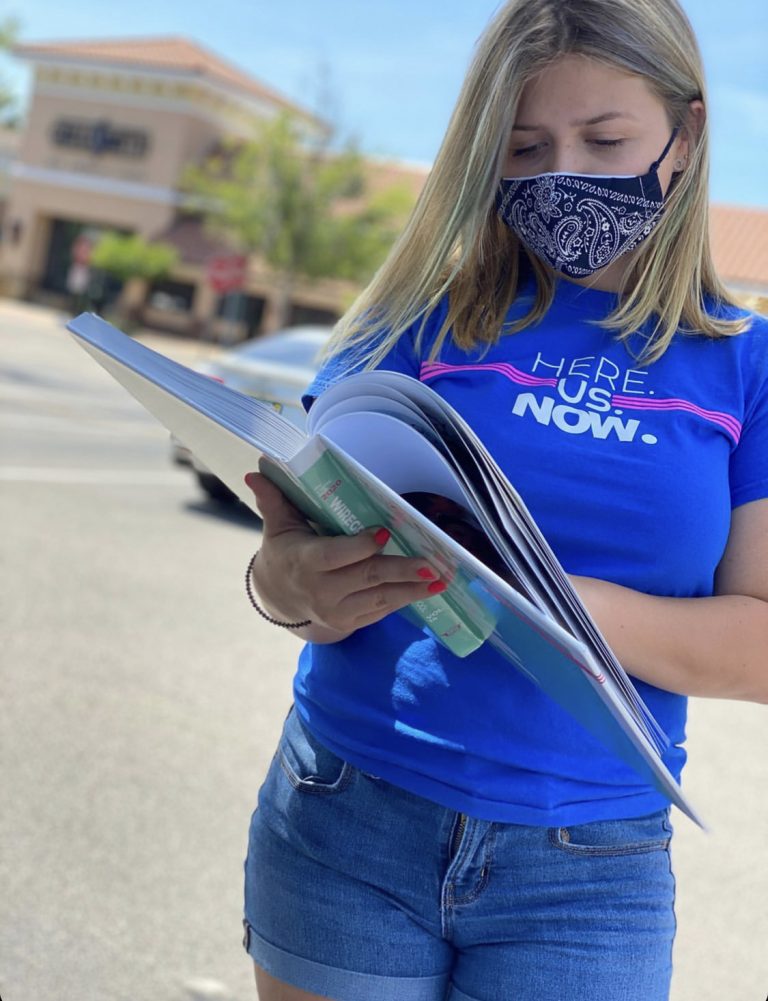 Photo by: Kimi Khalaf
Time to cap off an extraordinary year with an extraordinary Distribution Day
Written by Alec Aguirre
Students and teachers across the nation persevered and showcased creativity throughout this year of unprecedented challenges. Your staff proved that a non-traditional school year was anything but boring by illustrating stories and events while bringing the yearbook to life. Now is the exciting time to prepare to reveal all your hard work on yearbook distribution day. Schools are beginning to re-open in a variety of ways, so we created some helpful ideas to ensure that your celebration is one for the books!
Planning
As soon as your yearbooks are delivered to your school, make sure they are in a secure location. A box or even a single book going missing before the big day can create a stressful dilemma.  Prepare a list of names showing who purchased a yearbook to assist in a smooth distribution process. As students line up, cross their names off one by one to save time and avoid any confusion.
If you will have extra yearbooks for sale at your distribution day event, post a notice outside the classroom and school in advance. This can create a sense of urgency among students who have not yet purchased, helping them realize any remaining yearbooks will be sold on a first-come first-serve basis. It can also clear up any questions regarding potential mistakes ahead of time that could otherwise slow down distribution.
Promoting
What is the point of having an amazing distribution party if the school community is not aware? Promoting the big day is crucial, and there are several ways to get the most engagement from your efforts. Create fliers and posters to hand out and hang around the building to be sure your message is seen. To take this a step further, design various yard signs to place outside your school with sneak preview images that will be included in the yearbook, and don't forget to message your distribution on the school sign.
Social media engagement is essential in gaining a buzz about the upcoming distribution day, and posts should be early and often across multiple platforms. Each post should have a message reminding students and parents of the date and time, in addition to a graphic to stand out. Remain consistent in your messaging theme while also providing a general timeline of posts with "coming soon" or "one week out" posts so the school community is always aware. We have created social media graphics available to download for extra help!
While this school year has certainly been unique, use this to your advantage in your posts by highlighting how historic it was. Students will be able to look back on this yearbook in the future and share the memories they created.
Another efficient way to get the word out for yearbook distribution is by using your school's email list. Whether you want to dedicate an entire email to the details of the celebration or an add-on sentence as a reminder, this is a simple way to directly reach your audience. These emails are more likely to be opened since parents expect information regarding end of year items.
Celebrating
Determining the location for your celebration may be just as important as what your staff chooses to include in it. Keep in mind that social distance practices may still be in order, so plan accordingly to make the most of the space provided. Make the atmosphere as energetic and inviting as possible and let your creative ideas flow with plenty of decorations, music and space for yearbook signing. You can also create a looping slideshow of the pictures that did not make it into the yearbook to include even more students.
With a variation of safety restrictions across the nation, it may be easier to plan a smaller event that utilizes a car line to pick up a yearbook. Create a simple one-way route from the entrance of your campus up to a tent where your staff can hand out each book in a timely and efficient manner. This can easily still have an exciting vibe with the right additions throughout the area. Challenge your staff to think outside the box with creative ideas and to find inspiration from successful distribution parties at other schools.
One School of the Arts High School rented a dunk tank for teachers at their release party. It generated plenty of buzz through social media with students in their cars answering trivia questions to see their favorite teachers plunged into the water. This is one of many exciting possibilities that can put your distribution celebration over the top, and we are excited to hear the best of what you choose to include.
Remember to emphasize a "Last call for yearbooks" message to everyone attending your big event. This generates one final sales push once attendees realize there will not be another time to purchase after they see the buzz around them. While it may be tempting to lower the price to see more yearbooks sold on the final day, it is important to keep the price as is. Marketing future books will be less successful if parents think they can get a discount on distribution day. You want to incentivize early buying at a discount, and remind students and parents that yearbooks become more valuable with time.
Finally, this celebration would not be possible without the hard work of your staff this entire school year. Take time in advance to look through the yearbook with your staff, and discuss the areas of the book that you love. Give each staff members a staff t-shirt to wear during distribution so they also receive recognition from their peers. It might even lead to students who are interested in joining the next year's staff to ask questions about what to expect. Showing off the best of what the yearbook has to offer is a great way to recruit.
Distributing
After your successful distribution day, there may still be yearbooks leftover that were never picked up for a variety of reasons. Don't panic. Reach out to the students and parents who are still expecting their yearbook to determine the best way for them to receive it.
Mailing yearbooks one by one is expensive, so we recommend other options that are both safe and effective. Feel free to set up a delivery service that allows parents to pay a small fee to have their yearbook dropped off at their front door, or offer an additional time during the following week for parents to drive through and pick up the yearbook with minimal to no contact so they can stay safe.
There is not a single "right" way to put on your distribution day, and regardless of any mishaps along the way, remember to enjoy the moment and praise the staff for making it all possible. For any additional ideas or questions, remember to reach out to your Walsworth Sales Rep and be sure to check out our distribution flow chart as well!