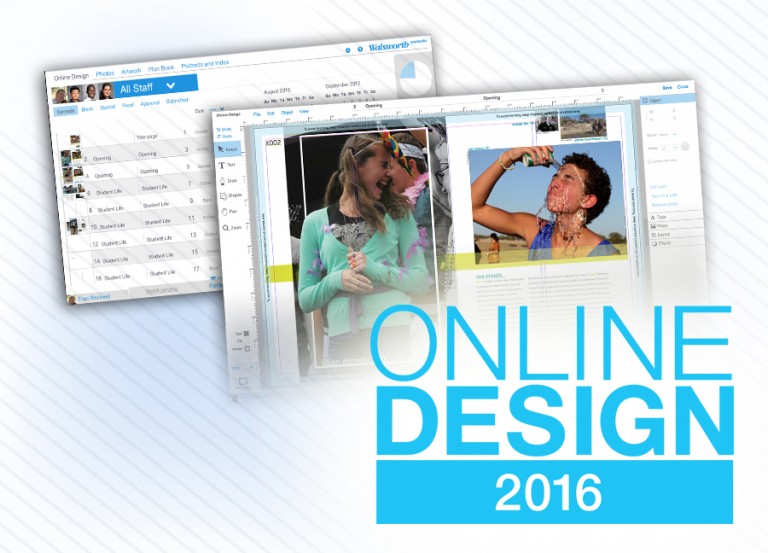 Walsworth releases its innovative Online Design 2016 cloud-based yearbook design application
Written by Marketing Staff
Overland Park, Kan. (May 4, 2015) – Walsworth has announced the release of its Online Design 2016 web-based yearbook creation program, enabling schools to create beautiful yearbooks with greater ease using one of the most sophisticated cloud-based design applications in the world.
With Online Design 2016, students at thousands of schools across the United States will create extraordinary yearbooks using the power of this latest technology that simplifies production tasks.
Innovative staff management features in Online Design 2016 will keep yearbook advisers and student editors organized. Advisers can see what each staff member is working on, see the progress of the work and assign them tasks to do. These organizational tools, which can be viewed on a computer or tablet, provide multi-faceted project management oversight not previously seen in the yearbook classroom.
Updated capabilities for photo management, one of the most challenging aspects of yearbook creation, simplify the task of searching through the thousands of photos taken each year and staff members can even recommend photos for specific pages. Yearbook staffs today strive to include every student in their school at least three times to provide balanced coverage. These features in Online Design 2016 help organize the thousands of photos taken every year so that staffs can track the number of times any student has appeared in the yearbook.
The new cloud-based user interface provides an intuitive design, and along with hundreds of new enhancements, it's easy for students to know what to do and how to do it. However, when questions arise, advisers and students can also easily access Walsworth's new help website, yearbookhelp.com – the most comprehensive online help resource in the yearbook industry.
"Online Design 2016 has been a collaborative 18-month engagement between our customers, developers and sales representatives to provide our customers with a user-friendly and powerful online product that will make producing the yearbook easier," said Don Walsworth, president. "We are proud of the product we are putting into the market. Walsworth is dedicated to the yearbook industry and will continue to support and create products that will enhance our customers' experience."
The two most-read sections of a yearbook, the index and the portrait pages, are now easier than ever to create. Indexing continuously runs in the background so the index is always up to date and accurate. Portrait pages are practically error proof with our automatically adjusting layout tool.
Since it's a web-based platform, Online Design 2016 eliminates the need for schools to purchase computer software or keep up with updates, saving schools money.
For more information about Online Design 2016 and its capabilities, contact Alex Blackwell, vice president of marketing and communications, at 800-369-2965, ext. 5769. For schools wanting more information about Online Design 2016, contact your local Walsworth Yearbooks sales representative for a demonstration or call 800-972-4968.