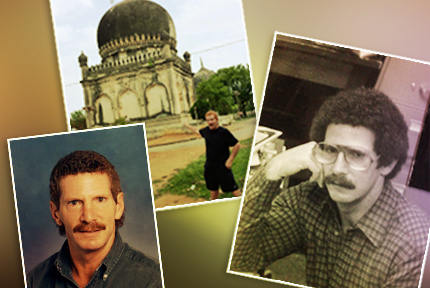 Thor's love of teaching, journalism to be honored
Written by Evan Blackwell, CJE
If you were a visitor to Steven Jay Thor's yearbook room over the course of his career as a yearbook adviser, chances are you probably remembered it. And remembered him.
Whether it was the life-sized posters adorning the walls, or the souvenir Thor's hammer given to him as a gift by his students, when you walked into Mr. Thor's room at Florida's Dillard High or Deerfield Beach High, you remembered. Oh, wait…
"It was never Mr. Thor," said Veronika Levine, the Walsworth Yearbooks sales representative who worked with Thor for seven years at Deerfield Beach High School. "It was just Thor."
For 37 years, Thor dedicated his career, and often his life, to scholastic journalism in Florida. Because of that, Thor will be honored at next week's Fall National High School Journalism Convention in Orlando with a Lifetime Achievement Award from the Journalism Education Association (JEA).
"I never wanted accolades," said Thor. "I do the things I do because I like people. And I love kids."
"You gave us endless support with every project we proposed and I will always be grateful for all your guidance."
– Jade Salamone – posted to Steven Jay Thor's Facebook page
"They would do anything for him."
Tom Barnard worked as a yearbook sales representative with Walsworth for nearly 30 years before his retirement in 2002. For more than 20 of those, he worked with Thor at Dillard High School in Fort Lauderdale.
Before becoming a sales rep, Barnard was a teacher and a yearbook adviser in Miami. He understood the classroom, and he knew right away that this energetic new adviser would be successful.
"When you work on a yearbook, you're not working in a classroom that's orderly. It can be pretty chaotic," said Barnard. "(Thor) had a knack. He did it without ever getting kerfuffled. He had it all under control, and the kids loved him. They would do anything for him."
According to Barnard, Thor's yearbook program at Dillard produced creative books, met deadlines and paid bills. Barnard still remembers it all, including the frequent lunches the two shared over the years.
"(Thor) was always eating tuna fish out of a can like cat, because he was so into fitness. I would tell him that it smelled so gross," said Barnard. "But he would never go down to the faculty lounge. He would always eat in his room. His room was his house."
"Congrats Thor! Well deserved honor. So much of who I am today was shaped in 1337 under your guidance."
Natasha Weinstein – posted to Facebook
District 7
Throughout his career, Thor has been a well-known presence in the Florida Scholastic Press Association (FSPA). Most notably, he was responsible for the formation of FSPA's District 7.
Thor attended an FSPA meeting in 1982 when the idea for District 7 started, born from a feeling that Dillard's area was being under-represented in the decision-making process. At the time, FSPA's District 6 was comprised of Monroe, Dade, Broward, Palm Beach and Martin counties. Thor saw the need for a split.
"The schools in Monroe and Dade County always seemed to be making all the decisions," said Thor. "I said, 'This is crazy. We're starting another district.'"
Thor began pounding the pavement, urging other advisers across Broward, Palm Beach and Martin Counties to split off and form a new district – District 7.
"As my kids used to say at the time, I was on a mission," said Thor. "It just kept growing and growing. I bothered everybody. I made people join."
Even after District 7 was created, Thor continued to be actively involved in the FSPA throughout his career. He served as the FSPA's president from 1989-91, and helped manage the organization's annual fall workshop.
"Thanks for all you did for District 7 and for all those students through the years!"
Danielle McWilliams – posted to Facebook
Teacher of the Year
In 2000, Thor moved from Dillard High School to Deerfield Beach High School, a magnet school in Deerfield Beach, Florida.
At Deerfield Beach, Thor met and began working with Walsworth's Levine, who nominated him for the JEA Lifetime Achievement Award.
"He's always had an amazing ability to engage with his kids. He very much cared about his students," said Levine. "He taught them journalism. He didn't just try to get the book done."
Thor retired from teaching and from regular duty with the FSPA in 2012. That same year, the FSPA honored him by naming him Florida's Journalism Teacher of the Year. The award, which Thor received at the state convention, is one he deeply cherishes.
But if you think retirement is a time to relax for Thor, it's not the case. He loves to travel, and India in particular is one of his favorite destinations. Thor, who has taught aerobics for 23 years, works as a lecturer for Weight Watchers. He also volunteers at a local hospital near his home in Fort Lauderdale in a physical therapy unit. And Thor still maintains a presence in the scholastic journalism world through Levine, having taught at her summer workshop in the years since his retirement.
"(Thor) wants every book to be better," said Levine. "He can make people laugh. He really connects with the kids."
And if you ask Thor, that's the legacy.
"Kids can do amazing things. To see a kid smile after they've accomplished something great is the best thing in the world," said Thor. "I loved the creative end. I loved teaching. I always did."