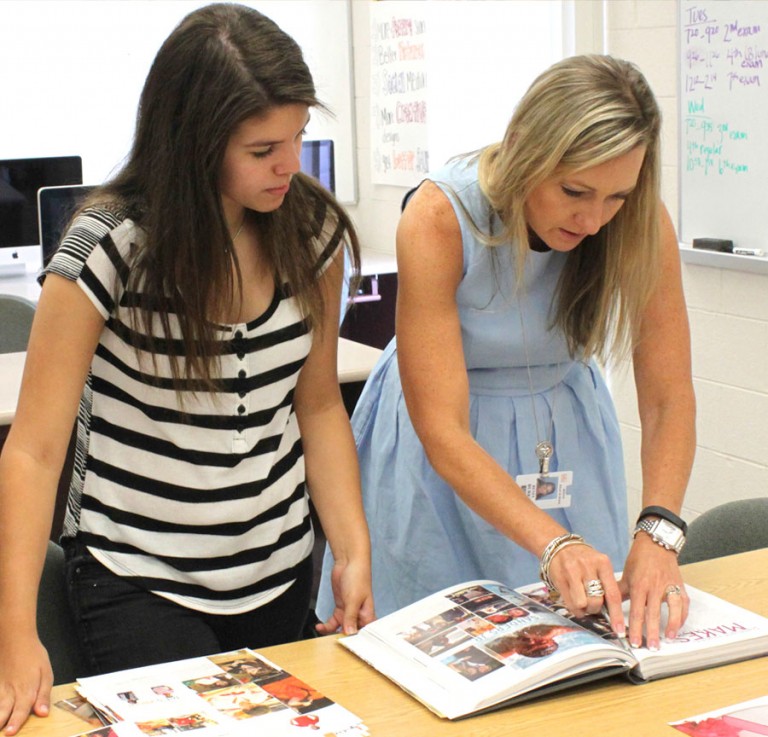 Teaching is a joy for JEA Distinguished Adviser winner Burke
Written by Elizabeth Braden, CJE
Growing up, Renee Burke was always teaching or being a role model for her two younger sisters. While in college she was a swimming instructor for kids and adults, taught reading at an adult literacy program and worked at a Title 1 Extended Day program.
Burke, a 2015 JEA Distinguished Adviser, knew she wanted to be a journalism teacher, but her plans after high school had been to get a college degree in advertising or public relations, work in that field for a few years and then become a high school journalism teacher.
"In my junior year of college I realized advertising was not where I saw myself. I wasn't feeling fulfilled," Burke said.
John Burke, her then-boyfriend and now-husband, pointed out the teaching experiences she was involved in and convinced her to change her major to education then, rather than waiting.
"He helped me see that I found true joy in those experiences. That sense of purpose helped me change my major to Language Arts Education," she said.
While Burke, NBCT, MJE, has found true joy in her 20 years of teaching at William R. Boone High School in Orlando, Fla., others have found pure joy being around Burke during her time as the school's yearbook and newspaper adviser.
"She organized national trips, holiday white elephant gift exchanges, annual pumpkin carving parties and other events, through which we staff members got to know her as the incredibly fun person that she is. … she is definitely a person with which you can't help but enjoy talking and spending time," said Amelia Cheatham, a 2014 Boone graduate who was a copy editor on the Legend yearbook staff for two years.
"Renee is the ultimate teacher – the special combination of content expert, pedagogical master, and kid magnet.  She sets high expectations for her students and for their work, as she does for herself," Dr. Margaret McMillen, Boone's principal, said.
McMillen said those high expectations have had a positive impact on Boone students and on the yearbook.
"Renee and her journalism students have built a program that produces an extraordinary product each year – the Boone Legend.  Our students look forward to and treasure their books, and our community is proud of the well-deserved reputation of our book and the teacher that leads the program," McMillen said.
Among recent awards, Boone's 2014 Legend yearbook earned an NSPA Pacemaker and a CSPA Gold Crown, while the Hilights newspaper and Hilights.org each earned a CSPA Silver Crown and an NSPA Pacemaker Finalist.
"In my opinion, when Mrs. Burke walks into a publications lab, yearbook magic is inevitable," Cheatham said.
"She has an incredibly thorough understanding of even the most recently established design trends, and she is constantly invested in how her students can utilize new technologies and social media tools to best reach their millennial audience.  She also possesses an amazing knowledge of what is going on at Boone, which enables her students to cover all facets of the student experience at the school," Cheatham said.
Burke shares her knowledge and joy of teaching beyond Boone. She teaches at Walsworth's Adviser Academy each summer, workshops across the country, and for 12 years was the coordinator for Camp Orlando, one of Walsworth's largest summer workshops in Florida.
Burke said she fell into the Camp Orlando coordinator's job by making suggestions to Missy Green, the Walsworth Yearbooks sales representative who runs the workshop.
"It began with me suggesting a wider variety of classes at camp, instead of Yearbook 1, Yearbook 2, Leadership and Photography. There were more specialized areas that I wanted my students to be exposed to, like feature writing and sports writing, rather than just 'writing' and I kept making suggestions to Missy. Camp Orlando just morphed into what we thought other staffs needed to be successful," Burke said.
"Renee had a dream of what a workshop should be and she made it happen," Green said in her letter of recommendation to JEA for the adviser award. "She hired the best and brightest instructors in journalism. She added newspaper to the mix because so many of the advisers she knew worked with both publications. She is Camp Orlando."
Amid the many demands her career brings, Burke said the most enjoyable part of the job is the relationships she develops with her students.
"Getting to keep many students for their four years of high school is such an honor and responsibility. The late nights and all the inside jokes are completely priceless," Burke said.