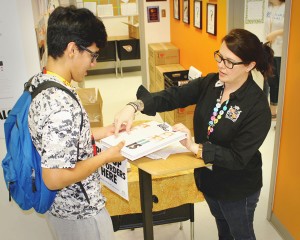 Rising Star winner combines love of storytelling, teaching
Written by Elizabeth Braden, CJE
A passion for storytelling combined with a love of learning led Emily Arnold, CJE, on a roundabout path to become the yearbook adviser at Haltom High School in Haltom City, Texas, and a 2015 JEA Rising Star award winner.
Raised in metro Fort Worth, Texas, Arnold never thought about teaching, and attended the University of Nebraska to explore her desire to tell stories through her interests in speech, broadcasting, photography and theater. She also worked in the arts and entertainment section of the Daily Nebraskan, the university's student newspaper.
"While there, I thought I wanted to become a professor, but earned my teaching certification instead. I planned to teach high school for a few years, but I had no idea I would love teaching high school students so much," Arnold said.
Beginning with her move to Nebraska for college, Arnold lived in a few different places, including Atlanta and England, but returned to Texas after each move. On one return move she earned her master's degree at Texas Christian University in Fort Worth.
Her last move back to Texas was from Portland, Ore., and she found a job at Haltom High School. During her first year there, her seventh year in teaching, she taught English and reading. Then the journalism adviser left and Arnold's department head and mentor, Connie Sanchez, asked if she was interested in the position because of her background in photography and experience at the Daily Nebraskan.
"I knew nothing about yearbook or advising other publications, but I wanted the challenge of advising and learning something new," Arnold said.
Arnold has always liked a challenge. According to her mother, who also is a teacher, Arnold ran into the school building without looking back on her first day of kindergarten. With similar enthusiasm, she not only teaches her students, but she learns right alongside them.
"Advocating for my students, engaging in learning along with them and seeing them develop a passion for storytelling is more rewarding than anything I ever experienced as an educator. Empowering them to think for themselves, yet work collaboratively to help them reach their potential, fulfills me and is why I will continue to teach journalism."
Clarence Simmons, Haltom's principal, praised Arnold's ability to train students to be storytellers.
"The excellent product that is produced is indicative of an inherent love that Mrs. Arnold has for producing a year in the life of our students that will transcend itself over the course of their life," Simmons said. "The yearbook staff is so inclusive and works diligently and with a purpose to ensure that no matter what walk of life you come from, they will highlight your story."
Simmons described Arnold as a can-do person who looks to create solutions and has a tireless work ethic. He said she works countless hours out of love for her students.
"The yearbook room is a 2nd home for so many of our students who feel safe, cared for and loved by Mrs. Arnold and their peers.  With our population at Haltom High School and the challenges that life throws them, this above all else is what makes her special," Simmons said.
Like all new advisers, Arnold had plenty to learn her first year.
"I tried to do everything myself when I inherited the program because I did not know better, but after that year I realized my real role was to teach and advise my students to become responsible journalists and make the decisions themselves," Arnold said.
The job also came with a journalism classroom that had a darkroom full of old equipment, which Arnold has been repairing and her photography students use for a few projects.
Arnold believes advisers should have an open mind and a willingness to learn. It's even part of her email signature, which includes the words: "Learner, Developer, Connectedness, Input, Empathy." Those words envelope her love of teaching and storytelling, and while she has been honored as a great adviser, she knows every day is a learning experience.
"The truth is I became a teacher because I value education. I felt like teaching offered the opportunities to make a difference and participate in the learning process with students," Arnold said.
"I think I am still learning how to be a better yearbook adviser every day."