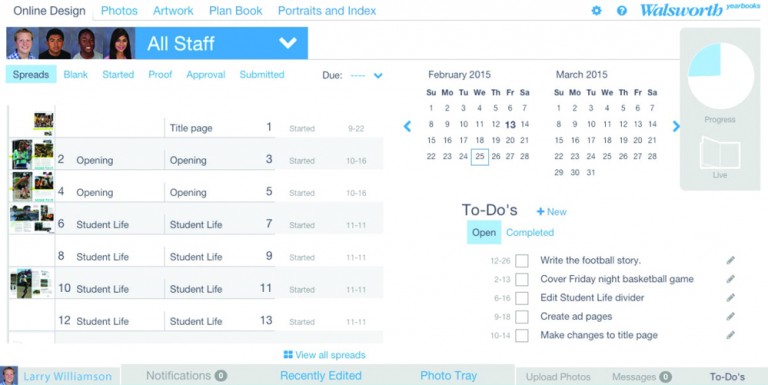 Online Design makes creating beautiful yearbooks easier
Written by Evan Blackwell, CJE
Walsworth Yearbooks is exited to offer the latest in online yearbook creation with the release of Online Design, one of the world's most sophisticated cloud-based applications.
The newest version of Walsworth's signature product, Online Design is enabling yearbook staffs to create beautiful books with greater ease thanks to hundreds of updates and a much more intuitive design. Online Design also offers innovative staff management features, which are available on a tablet.
Here's a quick look at some of the key new areas:
Staff management
Online Design allows users to stay organized. Advisers can see what each staff member is working on, using a menu of staff accounts right on the home page, which functions like a dashboard.
Also accessible from the home page is a snapshot view of your book's ladder, which allows for quick access to opening spreads in the Page Editor.
Photo management
The ability to upload images in Online Design can always be found, no matter where you are on the site, in the persistent navigation in the footer. With one click you can enter into an upload session, which allows you to upload more than one batch of photos at a time.
Within Online Design's Photos area you have the ability to create Photo Albums, which can be named whatever you want in a way that makes sense for the workflow of your yearbook staff – by date, by event, by section.
In addition, you can also apply topics to each uploaded photo to label it with more descriptive information, such as "football," "choir," "debate," or one you add yourself. These topics will help you find a specific image easier later during a search.
Plan Book
Online Design allows you to set up your book in an area called Plan Book. This is the home of your yearbook's ladder.
Within Plan Book, a user will work with their fonts, color styles, due dates, spread titles, spread assignments, templates and more. It's essentially the yearbook's hub where everything gets "planned" out.
Indexing
Indexing within Online Design now operates more automatically, with auto-indexing capabilities constantly running behind the scenes as you work, scanning for name matches.
Once you are finished working on a spread, you can enter the View Index screen to check the latest index matches and decide whether to keep them or delete them.
All of this is just a start. Walsworth Yearbooks schools can learn more about Online Design by visiting yearbookhelp.com within Members Only.