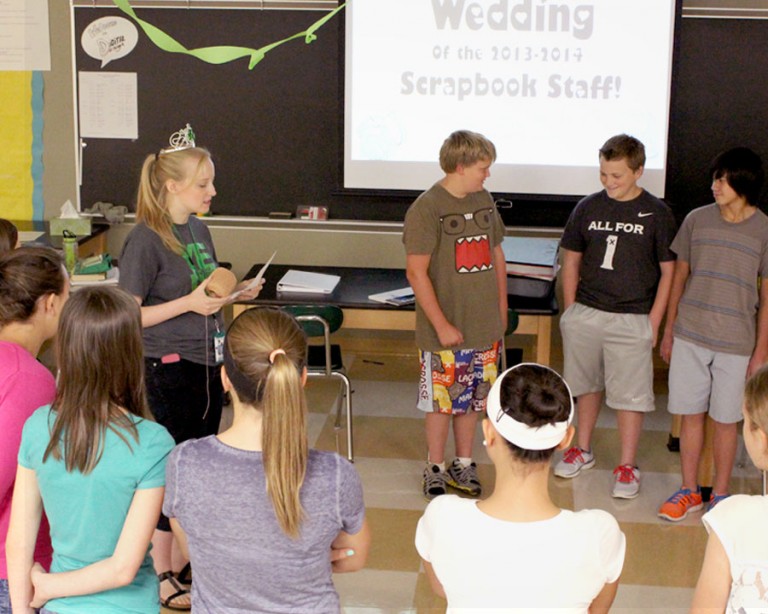 Yearbook transformation leads to national awards at Westfield
Written by Elizabeth Braden, CJE
Allie Staub not only embraces change, she initiates it.
Staub made changes in the yearbook program at Westfield Middle School in Westfield, Ind., which led to a national award-winning yearbook and to her receiving a 2015 JEA Rising Star award.
When Staub, an art teacher, first took over the program, it was an after-school club with little interest from students. Starting in her second year as adviser, she got it changed from a club to a class. She began studying award-winning yearbooks and networking with advisers to understand the process. Now yearbook class, called Digital Design, has become popular, with as many as 95 students submitting applications each year.
Staub is currently in her fifth year of advising The Scrapbook yearbook, and in the past three years the book has earned two CSPA Gold Crowns, one CSPA Silver Crown, an NSPA Pacemaker Finalist, and Best of Show awards at recent JEA/NSPA National High School Journalism Conventions. Staub will also be teaching the new Middle School Track at Walsworth's Adviser Academy July 20-22.
The 2012 Scrapbook made history at the 2013 JEA/NSPA Spring convention, when the book placed eighth in Best of Show in the 224 or Fewer Pages category of the high school books. Staub had entered the book in the Junior High Yearbook category, but somehow it was judged in a high school category and NSPA let the award stand.
"Improving your publication is always a benefit to you, your staff and your school community. Nothing is impossible if you are willing to do a little legwork," Staub said.
After being the yearbook club's adviser for a year, she went to Ryan Haughey, then-assistant principal at Westfield Middle, and asked how she could turn it into a class. He told her to write a proposal. In it, she explained the benefits to middle school students of learning journalism and how the class would fit in the school schedule, and the class was added.
Since then, Staub said she embraces change every school year.
"I have to with a brand new staff every year, and I think in some ways that helps our book. Every book is different, just like every staff is different, and I encourage them to make the book their own," she said.
Not only has Staub guided her students to create a nationally recognized yearbook, but she has done it with middle school students. There is no prerequisite journalism class, so her students get trained quickly to begin their work. She has her students only 55 minutes per day – they don't have block schedules. And the students aren't as independent as high school students.
"My students can't drive so we are at the whim of their parents in regards to staying late at school or going out to sell ads," she said. "I have to involve and communicate through their parents a lot more than I probably would at the high school level."
And while the 24 staff members enjoy building staff relationships with games and food, including Staub's Oreo truffles, Staub sets high expectations for their work on the book.
"But they are not unrealistic expectations by any means. I think that we underestimate our students sometimes, especially middle schoolers. They are capable of a lot more than we give them credit for," she said.
"We have now established a tradition of producing high-quality books, and every year my newest staff embraces that challenge and works hard to uphold that legacy," Staub said.
Haughey, who is now the principal at the school, praised the positive impact Staub has had on her students and the yearbook.
"Allie's work ethic and dedication to her students is what sets her apart from most educators.  She is able to instill a sense of confidence in them that they can create the best yearbook in the United States," Haughey said.
And students have caught Staub's work ethic.
"Allie and her yearbook students have made it a priority each and every year to include all WMS students in the yearbook in some fashion beyond their school picture. This is no easy task with nearly 1,100 students," Haughey said.
Staub is passionate about advising and yearbooks, and she tries to pass that on to her students.
"I always tell them that no matter what the judges say, or what awards they win or lose, in the end they have to make something that they can be proud of and show it off to the people that matter the most to them."
Comments are closed.