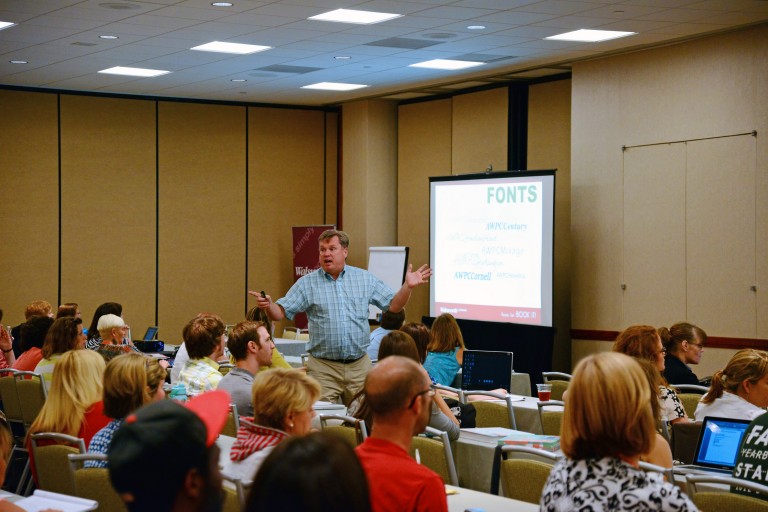 Take a look at what's coming to Walsworth's 2015 Adviser Academy
Written by Evan Blackwell, CJE
Walsworth's 2015 Adviser Academy is just around the corner. This year's event will be July 20-22 at the Westin Crown Center in Kansas City, and advisers can also stay for an optional day of Advanced Tech Training or a plant tour on July 23.
This year's workshop is expecting a record crowd, and it will feature some exciting options.
For the first time, a track is being offered specifically for middle school advisers.
Intensive training for Walsworth's new Online Design 2016 is on the schedule, beginning through advanced.
Breakout sessions will cover everything from photojournalism to marketing, coverage, staff management and much more.
This year's track instructors will be a mix of new and returning faces. Walsworth Yearbooks sales reps Jill Chittum, MJE, and Sabrina Schmitz, CJE, will teach Track 1 for new advisers.
Track 2 for returning advisers will be taught by Renee Burke, NBCT, MJE, from Boone High School in Orlando, Fla., and Lori Oglesbee, M.Ed, MJE, from McKinney High School in McKinney, Texas. Yearbook adviser Allie Staub from Westfield High School in Westfield, Ind., will teach the Middle School track.
Special general sessions from Walsworth's Mike Taylor and Jessica Young, MJE, adviser from Orange Glen High School in Escondido, Calif., are also on the agenda.
Check back in with the Yearbooks Blog the week of the Adviser Academy for more coverage of the event!
Comments are closed.