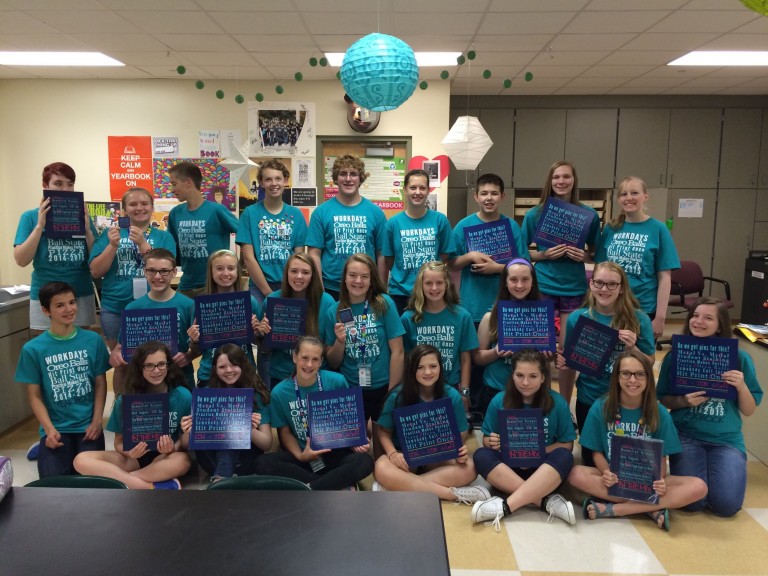 Create a book that tells the yearbook staff's story
Written by Elizabeth Braden, CJE
The knowledge acquired by students while working on a yearbook all year can be useful to the next staff. This is especially true with programs that have complete staff turnover.
Some staffs make notes in their staff manuals to pass on their experience and knowledge to the incoming staff. Some write letters, which the staffs previously did at Westfield Middle School in Westfield, Indiana. But Allie Staub, the yearbook adviser, said letter writing didn't connect with her students.
So after their 2015 spring-delivery yearbook went to print, the students participated in the Yearbook Legacy Project, creating what they called a "yearbook yearbook."
"They got very into this project. I think some of them liked the yearbook yearbook even better than the actual yearbook," Staub said.
Their yearbook yearbook is a 20-page, 12" x 12" memory book containing words of advice, survival tips and lessons the staff learned during the year that they think the next staff needs to know. The students received a grade for their work.
During the three-week project, every staff member worked alone or with a partner to create spreads. Each spread required a photo package with at least three photos with captions, plus at least two packages or infographics. A ladder was created so each spread was unique.
The entire staff contributed to three special spreads, including a portrait page done in the Brady Bunch style using a school portrait set donated to the class by a local photography company.
The opening and closing were written by the editors-in-chief, and the hard cover, although glossy, mimics the look of the soft touch matte lamination cover of the 2015 yearbook. Since the school's yearbook is named Scrapbook, the yearbook yearbook was named the Family Scrapbook.
Students used a variety of photos for the memory book, such as really good photos that didn't make it into the yearbook and photos from workshop or that Staub had taken of them during the year. Some staffers took photos specifically for their spread.
"One staffer ordered pizzas just so she could take pictures of them for her pizza infographic poll on everyone's favorite pizza toppings," Staub said.
Two copies of the book will remain in the classroom, Staub purchased one and most of the staff did, too.
Let us know how your staffs pass on their knowledge to the next staff.