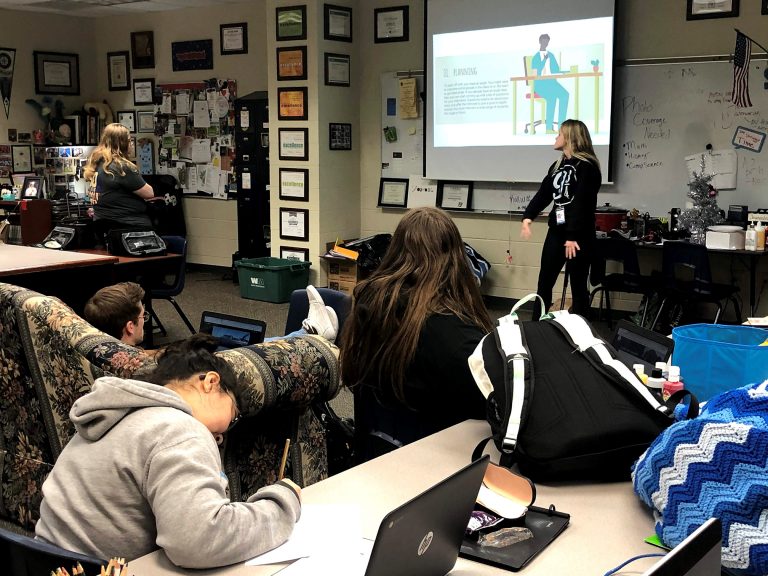 A Level Up update on Har-Ber High School
Written by Jim Jordan
In October 2019, Har-Ber High School in Springdale, Arkansas, and Meridian High School in Maycomb, Illinois, were selected as the winners of Walsworth Yearbooks' Level Up contest. The prize package, worth over $3,500, includes a visit by Jim Jordan and Mike Taylor, CJE, to work with their staffs, editors and adviser. In early January, Jordan visited Karla Sprague, CJE, and her staff at Har-Ber High School and shared his experience.
The Level Up process at Har-Ber High School in Springdale, Arkansas, is well under way!
I had an amazing two-day visit with adviser Karla Sprague, CJE, and her staff in Arkansas in January. I presented to the whole staff, worked one-on-one with the editor-in-chief and even had time to record a podcast while a storm was raging outside.
Day One
On day one, I worked with her whole staff and had them consider some tough questions about their role in taking their book to the next level – all three periods of the staff since they have so many students that they split yearbook into three separate classes!
I began with these general yearbook philosophical questions.
Do you really want to create a great yearbook?
What kind of a book do you want to create?
Is being recognized beyond your school for your work important to you?
Are you willing to take risks?
Do you want to create the best book your school has ever seen?
Do you have the time needed for the task?
Are you willing to learn about what yearbook greatness is?
Are you students of great yearbook design and writing?
Then we focused on them as a staff more specifically.
As a staff, are you as a staff ready and willing to be great?
Can everyone work collaboratively to do the best for each other and the book?
Is your adviser committed to learning, growing, pushing, coaching and nurturing?
Are you coachable?
Who will be coaching the staff?
At the end of each of the three class periods, I had each staff member write on a sticky note what kind of book he or she was willing to commit to produce this year. Award winning? High quality? Good? Done? The best books the school has ever seen? Then each staffer walked to the back of the room and stuck it on the whiteboard. The final result? They all were in and committed to do their best book ever!
On that first day, I also had the privilege of spending quality, one-on-one, design-coaching time with editor-in-chief Maddy Stout. I love going through this process with anyone who loves yearbooks and is willing to consider how to improve the details of each spread. Yearbook greatness is really in the minute details.
I first met Maddy back in September when she and Karla, along with two other staffers, came to the Kansas City Elite Weekend. At that point, I knew they had so much potential to do an amazing book.
Later that month, they submitted an entry to Walsworth's Level Up contest and they, along with Sheila Moore and her staff in Illinois, were selected as the winners.
As I saw all the work that Maddy and her staff had completed so far, I was so impressed with her design talent and the ways they had incorporated the theme on every spread throughout the book. I think she was nervous that what she had done wasn't good enough and I wouldn't like it. I not only liked it, I loved it! She clearly has so much design and leadership talent. I asked questions and offered possibilities of ways the spreads might be improved and made more consistent, but it was up to Maddy to decide what was best for her school and the book.
That evening, Karla, her Walsworth Yearbooks sales rep Jenny Olson, CJE, and I joined another local adviser for a special tour of the Crystal Bridges Museum of American Art. One of my former yearbook staff members worked there for a number of years and got us a special private tour. The time helped us get to know each other better, and we were all inspired by the incredible, creative work in all the galleries and on the properties. It was a great adviser night out!
Day Two
On day two, I spent most of my time with Maddy discussing ways they might approach their club coverage and design. I offered suggestions and coached her through several design improvements, and she even revised an entire showstopper spread. You are all going to love all the beautiful work she and her staff have done!
As the day was drawing to a close, four of us sat down and recorded a podcast together about how the visit went and their goals as they continue to Level Up their book. As we were recording, storm warnings came over the PA system warning everyone to stay inside the school building. I made it to the airport two hours later, but I didn't leave NW Arkansas for almost 24 hours as no planes were getting out.
I am so excited about the progress we made in just two short days. They have the all the talent and tools they need to make this Har-Ber's best book ever. Karla will be attending more training events over the next few months as part of her Level Up prize package. We are just getting started though, so stay tuned for more updates as Mike Taylor and I continue to work with Har-Ber High School and Meridian High School to help them Level Up their yearbook and prepare for an even better 2021 yearbook.
Be sure to listen to the podcast with more details about the visit. Find it wherever you get your podcasts or at walsworthyearbooks.com/podcasts.