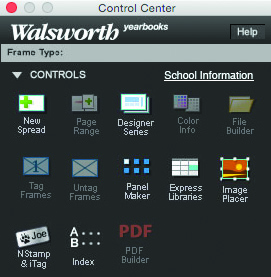 Walsworth Enhancements enrich InDesign
Written by Elizabeth Braden, CJE
For schools using Adobe® InDesign®, Walsworth supports you with Enhancements to simplify yearbook creation. The Enhancements, compatible with InDesign CS 5.5, CS 6 and Creative Cloud, assist InDesign users by adding functionality for specific yearbook needs.
When you open InDesign, the Control Center opens, giving you access to all of the Enhancements.
Begin by using these buttons.
School Information lets you enter your school name and job number.
New Spread opens a blank Walsworth template in your yearbook's page size.
Color Information allows you to assign color specs to your pages.
File Builder lets you break up multi-page documents.
Design assistance is readily available.
Designer Series is where pre-designed templates are located.
Total Design has pre-designed templates from award-winning books.
Express Libraries are portions of pre-designed layouts such as scoreboards, ads, headline treatments and quote boxes.
Easily work with photos.
Panel Maker helps you build portrait pages to your specifications.
Portrait Flow flows your high-resolution portraits onto the pages.
Image Placer provides for easy photo placement on pages and convenient photo storage.
Use these buttons as deadlines approach.
Index Plus helps you build your index.
PDF Builder allows you to create acceptable PDF documents for submission.
The Enhancements are located on the 2016 Tech DVD and on Support Download.