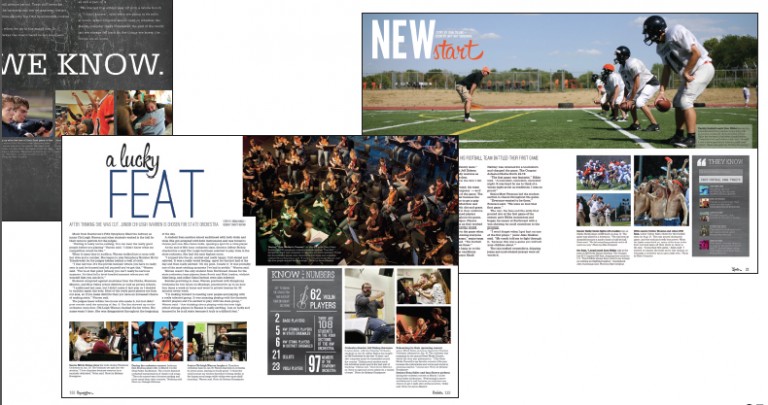 Theme Copy: Just Say It
Written by Crystal Kazmierski
Nothing will kill a theme faster than boring copy filled with platitudes about what the year could have or should have been. Theme copy is not the place for lofty statements that sound deep but fail to capture the everyday thoughts and feelings of students at your school.
The goal of theme copy should be to help your readers remember a story they already know. It should be filled with personal details in ways that are all about showing what life was like at YOUR school in THIS particular year. Sure, you will want to include the big things. But it's the details, the personal reminders of what life was really like (even in not-so-important areas) that are going to make your theme copy special. Intimate. Personal.
Here's an example from the 2013 Lair from Shawnee Mission Northwest High School in Shawnee, Kansas. Their theme was "WE KNOW."
We know…

…we're not really a school known for one thing. It's ironic that we always chant "We are Northwest" when Northwest really doesn't have a narrow identity, but a broad spectrum of things we know we're good at.

We've come to expect Van Rose to lead the cross country team to another state championship, the theater department to achieve another Blue Star award. Even as the year begins, we are looking forward to the Poetry Slam – proud that it is the largest in the state.

We know what classes we can use to finish other homework, which teachers will get mad if we're texting and which ones laugh about something they watch us tweet. We know what happens if we don't complete our work, too.

We know that when we go to the snack line, Dr. Harrington is always the one to hand us our ice cream cones. The lunch ladies sometimes have our lunch orders memorized, even if all we get is a piece of cheese pizza and purple Propel. They know us.

Whether we are involved in the school or not, we're all still a part of it.

We started this school year off with a whole bunch of "I don't knows": who were we going to sit with at lunch, when Chipoltle would open or whether the Mayan calendar really forecasted the end of the world but we always fell back on the things we knew, the things we all know.

We know.