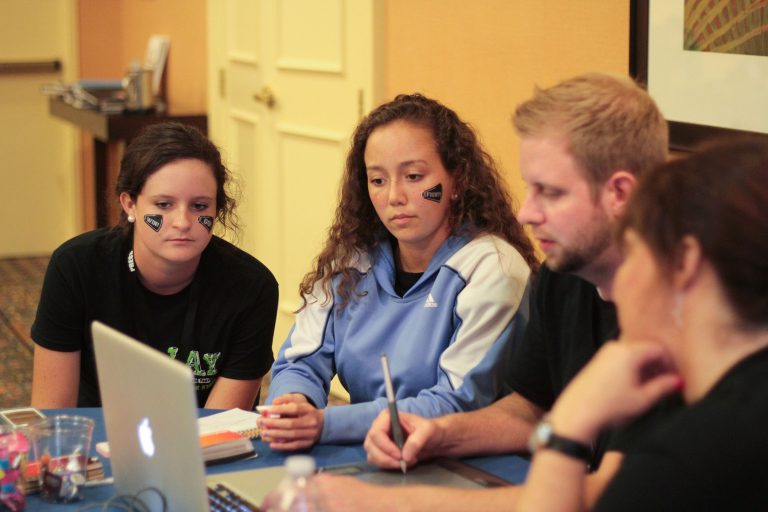 Stay on track to get to 
summer workshop
Written by Carolyn Henderson
It's the first day of school and you are suddenly struck with panic realizing that your first deadline is only two months away. Pictures need to be taken, interviews conducted, stories written and pages designed, but you haven't had enough time to teach your new staff members how to do any of these things. Plus, the theme isn't finalized and the ladder is not in place—let alone any templates or design elements!
Do you want to ease that stress you are feeling and begin the year without so much chaos? Then a summer yearbook workshop is the answer!
There's no better feeling than starting the school year with your theme and ladder completed, templates and graphics ready to be plugged in, and a staff that's already bonded and been trained. This is what the magic of attending a summer yearbook workshop can do for you!
All you have to do is pick a workshop and follow this checklist. It's ideal to start planning at the beginning of the year, but there is still time to prepare to attend a workshop this summer.
August/September
Begin researching potential workshops to attend. Ask my yearbook sales rep about regional workshops. Check Workshop Central at walsworthyearbooks.com. Check with the state journalism organization to see what workshops they sponsor. Most details won't be available until early spring, so use last year's information to begin planning.
Analyze the yearbook budget and include the amount the yearbook program will contribute to the overall cost of the workshop, based on the previous year's workshop information.
Consider how the money will be raised if the yearbook program will be paying a portion, such as selling additional ads or books or possibly raising the cost of the book by $5. Talk with my sales rep so he or she can help plan and track the budget accordingly.
Plant the seeds about attending a yearbook workshop next summer. Tease students with clues about the fun learning activities they could experience at camp.
Get detailed information from school administration about overnight field trips. This could include parent permission forms, restrictions on the type of transportation that can be used and chaperone requirements.
October/November
Check the yearbook budget to stay on track with meeting the fundraising budget.
Continue to mention camp to the staff to get them excited about attending next summer.
Ask my sales rep to talk with the staff about yearbook camp and its benefits.
December
Confirm dates for the workshop we'll be attending and give them to the staff so students can check their summer calendars and pencil in the dates before they commit to other activities.
Start the money conversation with students. Give them a ballpark cost and discuss with them how much they think they can contribute. Ideally they should pay for one-third to one-half of their total cost to attend. Students will be more committed and work harder if they contribute to the cost. Remind them how much they pay to attend other types of camps, i.e., sports, arts, church. This helps them put the cost into perspective.
Discuss options for student fundraising to help them offset their portion of the cost. Form a fundraising committee to research ideas.
Consider having staff sell additional business ads for their fundraising. Individual participation should be directly related to the amount each student receives toward their expenses.
January
Have fundraising committee finalize their plans and get them approved through the necessary channels. Fundraising needs to be completed by April.
Check budget with sales rep to stay on track with the yearbook account's contribution to the workshop costs.
If the school district requires special permission for overnight trips, begin the process for this request.
Check into transportation options. If the district allows transport in private vehicles, arrange drivers. Otherwise, check into school bus or commercial transportation. If school transportation must be used, get cost estimates.
Secure any necessary additional chaperones per school district requirements.
February
Workshop costs should begin to be available via a workshop website or brochure, so plan the exact workshop budget. Include costs for: Registration fee, lodging, transportation, food and supplies. Some lodgings provide kitchens where you may prepare your own food for meals that are not included. Also budget for free time to area attractions.
Send an informational letter home to parents detailing dates and costs. Request a non-refundable deposit along with a commitment form signed by both the student and parent. This will complete staff registration on time.
Set up a payment plan schedule for parents/students who need to break up their balance due into multiple payments. Get both parents and student to sign off on this.
Get fundraising update from student committee. Remind them that fundraising needs to be done by end of April.
Continue to monitor the yearbook budget.
March
Check fundraising status from the student committee. Try to conclude all fundraising by end of April.
Collect payments from students who are using a payment plan option.
Continue to monitor yearbook budget.
Assign a theme packet project as a classroom assignment. This assists with preparation for assignments and contests at the workshop.
Hold a workshop goal-setting session with students committed to attending. For example, are there staff members who need lots of software training, or is the main goal to have a well-planned theme and ladder? Be specific and write down what needs to be achieved so everyone stays focused.
April
Request a check from the bookkeeper to cover registration costs. (Your yearbook account should be liquid enough to cover the cost now, even if students are still making payments.)
Look over course offerings and pick classes for each student. To get the most out of the workshop, choose classes that will help achieve the workshop goals set last month.
Submit workshop registration and payment. Often workshops provide early bird pricing, so take advantage of it. Also, some locations book up early, so secure your spot.
Registrations may or may not include lodging and some require separate registrations for each. Read the registration information and make sure room reservations are secured and a check is requested.
Continue to collect payments from students.
Calculate the final fundraising profits and credit them to the students who participated.
May
The pace of most workshops can be overwhelming, so take time to prepare two to three theme ideas and develop graphic elements/concepts to go along with them.
Create a Pinterest board to house the staff's ideas. Scour sites like thinkstock.com or take a trip to the mall to see new graphic trends.
Develop cover ideas to go along with your theme ideas.
Create staff T-shirts so the staff has their own identity at the workshop and makes a great first impression.
Hold a meeting for all attending students and their parents to review rules and expectations for the workshop, departure plans and times, what to pack, spending money and to collect all signed paperwork.
Collect final payments from students.
Meet with the staff to be sure they know all expectations and goals for the workshop.
Attend all sessions and complete all assignments.
Seek out new ideas from their sessions and what they see from other staffs.
Get to know the rest of the staff and how to work together. See list of specific goals to accomplish for this book online.
June

Gather supplies. Check the workshop brochure/
website for suggested items to bring.
If recreational opportunities are part of the workshop, pack the appropriate attire. See the workshop brochure/website for suggested packing lists.
Follow these steps and attend a summer workshop to give yourself and your yearbook staff the chance to have a less chaotic beginning to the school year. Once your staff has experienced the magic they will want to go back every year. And you will wonder why you didn't do it sooner.
Comments are closed.