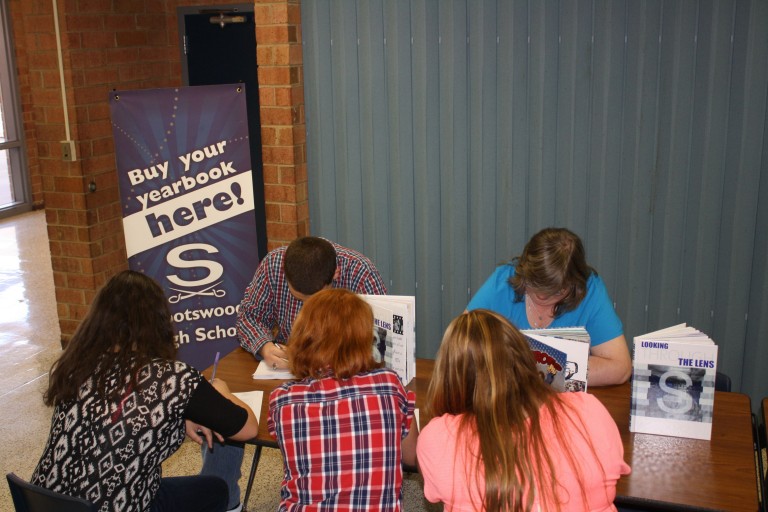 Spotswood High perfects early bird yearbook sales
Written by Elizabeth Braden, CJE
Proving that buyers can be motivated to buy early, the yearbook staff at Spotswood High School in Penn Laird, Virginia, has already sold almost as many 2016 yearbooks by mid-September as they did books in the entire 2015 school year.
Six years ago, the staff sold most of their yearbooks after they were delivered to the school. That's when Sharlene Schoenhardt became yearbook adviser, and she set out to change that.
Now most of Spotswood's sales come during registration in August. The first year the staff sold during registration, they sold 56 books. The second year, they sold 123 books, and last year they sold 215.
This year so far they have sold 408 books. That compares with the 429 books sold for the entire 2015 school year.
Schoenhardt said the year-over-year sales increase is occurring because the word is out that yearbooks can be ordered early during registration, and because parents can now buy the high school yearbooks through a similar process at registration as they do with the middle school yearbook.
This year the staff decided to sell even earlier. When the class of 2016 sat for their senior portraits at school last May, they were informed that the Trail Mix yearbook was available for purchase beginning June 1 at a special sale price just for them. About 20 students took advantage, Schoenhardt said.
For registration, the staff includes information about buying a yearbook in the letter that's included in the school's registration packet. They let parents know that yearbooks would be on sale for $5 off during registration only.
At registration, their sales table was set up in line with all of the other fee tables, and a yearbook order form was included in the packet parents were given as they came in.
"At one point during the three days of registration, I had 14 parents standing around my table waiting for me to take their money," Schoenhardt said.
Most parents paid by cash or check, but about 60 people used the two laptops available for people who wanted to purchase online with a credit card.
Since the yearbooks were $5 off during registration, many parents opted to add namestamping, and a few purchased extra icons, she said. And even though the sale price ended on the first day of school, a few more people bought during the first week of school.
With a student body of about 850 kids and 65 faculty and staff, the Trail Mix staff expects to sell about 75 more books, Schoenhardt said. They plan to set up sales tables during the homecoming game, basketball tournaments, volleyball tournaments, swim and dive meets, and "anywhere parents and community members are congregating in large groups to support our kids," Schoenhardt said.