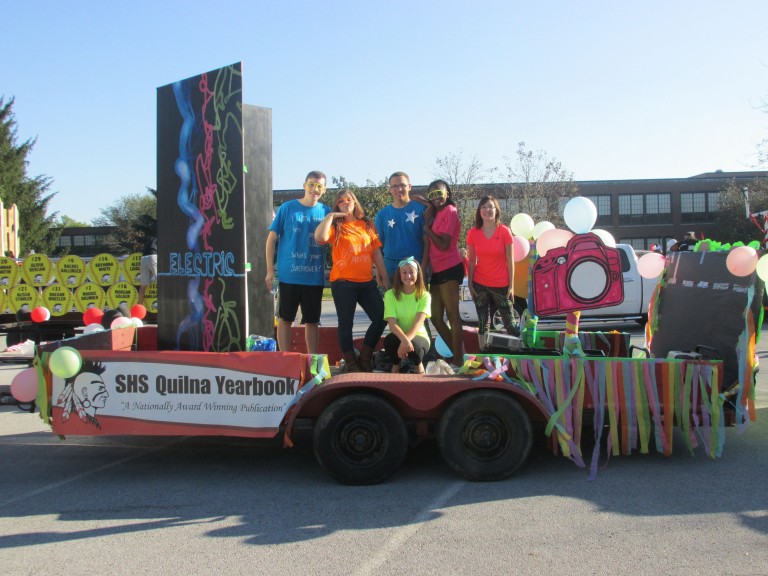 Shawnee yearbook staff makes big splash at Homecoming parade
Written by Evan Blackwell, CJE
The yearbook staff at Shawnee High School in Lima, Ohio, loves taking on fun marketing projects and finding creative ways to promote the yearbook, which we've documented before here in the Yearbooks Blog.
This fall's big project for the Shawnee staff was to build a float for the school's Homecoming week parade. The students devoted time over the first few weeks of school creating an 8-foot tall version of Shawnee's 2015 book as the centerpiece of the float.
"The board on the inside of the book was decorated like pages and we projected images from the yearbook on it so students could see pictures from the book," said Brian Krawetzke, Shawnee adviser.
According to Krawetzke, the parade float served multiple purposes. Shawnee's yearbook delivers in the fall, so the float was a great way to promote the school's distribution event for the 2015 book, which is coming up this week.
In addition, yearbook staffers who rode on the float tossed candy to the crowd, and attached to the candy were small order forms for the 2016 yearbook.
"Everyone had a blast, and it was great exposure," said Krawetzke.
What ideas is your staff using to promote the book this fall? Let us know in the comments below!