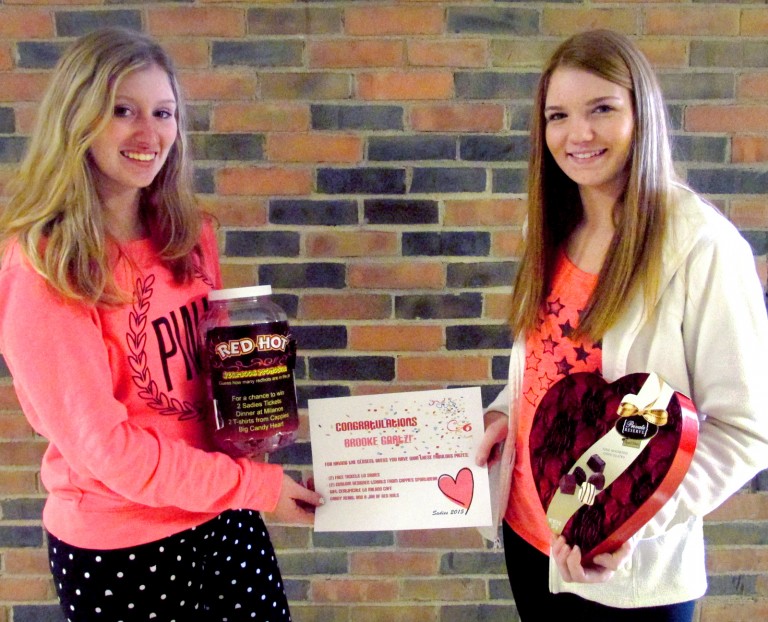 Shawnee High celebrates Valentine's Day with "Red Hot Yearbook" promotion
Written by Evan Blackwell, CJE
Continuing in the tradition of creative marketing that led to YearBlinko, movie posters and Halloween candy giveaways, the yearbook staff at Shawnee High School in Lima, Ohio, recently organized their latest fun promotion this month around Valentine's Day.
Shawnee's annual Sadie Hawkins Dance happened to fall on Feb. 14 this year, so the yearbook staff offered up a prize package as part of their "Red Hot Yearbook" contest. They filled up a clear container with more than 2,000 Red Hots candies in it.
Staff members then displayed the container in the cafeteria for a week. Students who had purchased the yearbook were given a chance to guess the number of Red Hots to win the prize, which included 2 free tickets to the dance, a free dinner for two at a local restaurant, a candy heart and custom "Red Hot" T-shirts.
"The prizes were donated to us so the only expense was the Red Hots, which was minimal," said Brian Krawetzke, adviser at Shawnee High. "The students loved the promotion."
Krawetzke said 225 students entered the contest to guess the number of Red Hots in the container. Included among those entries were 20 new book sales just that week.
A pretty sweet idea to keep in mind for next Valentine's Day!