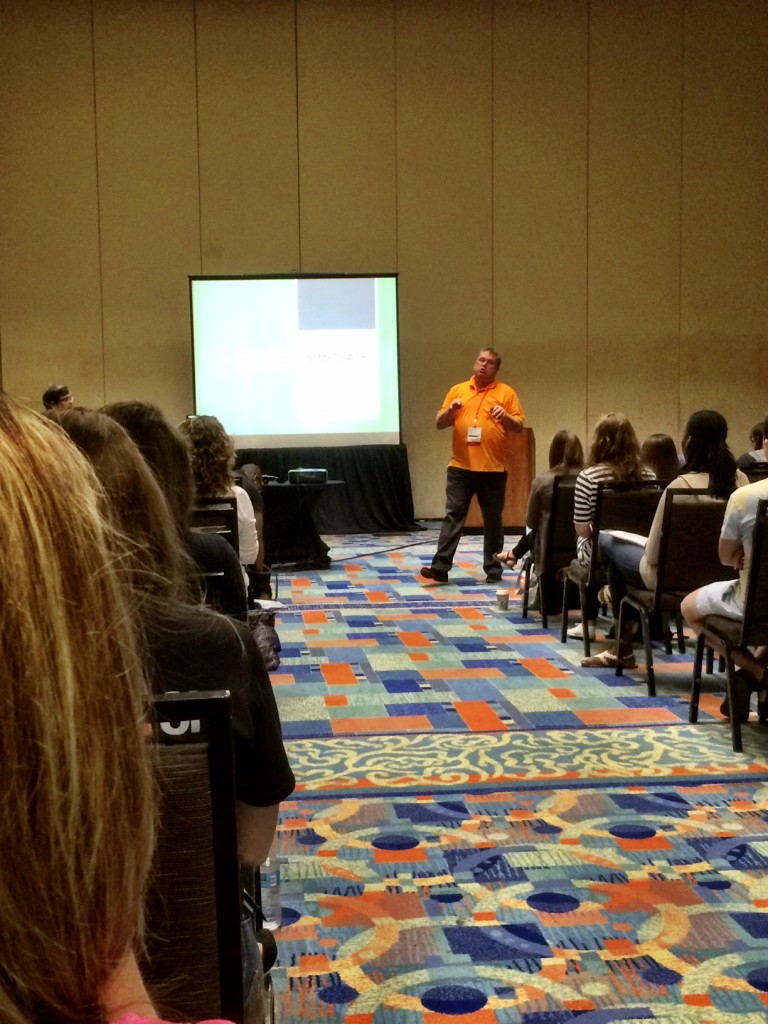 See Walsworth Yearbooks experts speak this week at Seattle JEA/NSPA
Written by Evan Blackwell, CJE
Yearbook staffs heading to this week's JEA/NSPA Spring National High School Journalism Convention in Seattle can get an education on everything from coverage to design to marketing and much more by checking out sessions from Walsworth Yearbooks speakers.
Educational sessions at JEA/NSPA will take place on Friday and Saturday. You can see the schedule of Walsworth speakers below.
Friday, April 7
Heading in the right direction
9 a.m. – Room 213, CC – Adam Livesay, CJE
Do you ever write copy and hope no one reads it? Probably not. Learn how to write and design the perfect headline that will make people stop and read your story.
Design Quest: Sparking yearbook creativity
10 a.m. – Room 306, CC – Jim Jordan, Del Campo High School
This session will stimulate your thinking as you embark on the journey of designing your 2018 book. Where do the great yearbook designers get all those great ideas? Come see what the professionals are doing and find new sources of inspiration for your 2018 book.
Strangers on the street
10 a.m. – Room 303, CC – Mike Taylor, CJE, and Sabrina Schmitz, CJE
Learning how to approach a subject and getting them to open up is not all that hard. It just takes practice. You will receive good examples and practices that will work for you.
Twinkle toes? Or two left feet?
11 a.m. – Room 306, CC – Jim Jordan, Del Campo High School; Crystal Kazmierski, Arrowhead Christian Academy; Susan Massy, Shawnee Mission Northwest High School
Dealing with surprises that accompany leadership requires a dose of experience, a dash of success and a lot of good old tap dancing. This forum-style session will let us learn from each other as we share our trials and successes and you share some of yours.
Not your momma's yearbook
11 a.m. – Room 303, CC – Mike Taylor, CJE, and Martha Akers, Loudoun Valley High School
Heck, it's not even your big sister's book! Just because we call it a yearbook does not mean your coverage and design should stay the same. Many new ideas on coverage, design and writing will be discussed. Take a leap! Move your 2018 publication ahead.
Creating a story like a storyteller 
1 p.m. – Room 204, CC – Carolyn Henderson, CJE, and Missy Green
The age-old tradition of oral storytelling can be woven into how we write and design yearbook spreads to tell our stories. Learn how to use the best storytelling techniques to pull the readers in and make them want to read your stories.
Creative ways to market your yearbook
1 p.m. – Redwood, 2nd, Sheraton – Lori Garcia and Carlos Briano
If your school is struggling to sell the yearbook, learn how El Paso, Texas, schools are getting creative in marketing to increase sales. Some of these strategies work for schools with a zero budget! This class is also perfect for new advisers.
Head in the game
2 p.m. – Room 4C1-2, CC – Mike Taylor, CJE, and Renee Burke, MJE, Boone High School
Tired of unexciting headlines? Come learn how to write and design headlines that will grab the readers' attention and make them want to read your story.
Designing to tell your story
2 p.m. – Room 204, CC – Carolyn Henderson, CJE, and Missy Green
Conquer the challenge of getting students to read your stories by drawing them in with great design and photography. Learn some strategies to make sure your entire spread is telling the story and leading the reader to actually read what you write.
Design smarter, not harder
2 p.m. – Room 201, CC – Sabrina Schmitz, CJE
Good design isn't about smothering your spreads with graphics or knowing every complicated design trick. Good design is smart design. Become an intelligent designer and learn how creative thinking, clever design decisions and unique approaches to layout can help you create advanced designs that wow.
Other career opportunities for yerds 
2 p.m. – Redwood, 2nd, Sheraton – Lori Garcia and Carlos Briano
Love being in student publications but don't want to be a journalist or broadcaster? Other employers out there want and need your skills! Listen to a public information officer from a fire department and a yearbook rep share how they use their yerd skills daily professionally.
Saturday, April 8
Editorial leadership in the real world
1 p.m. – Room 307, CC – Kelly Sereikas, CJE
If you can learn to be a leader on your staff, then leading a team or a company later in life will be a breeze. In this session, we'll take real-world business practices and apply them in the publications classroom.
Yearbook like you're Snapchatting
1 p.m. – Room 201, CC – Andrew Ross
Snapchats, while short in nature, communicate our stories. This unique form of storytelling is done quickly and requires a response. When writing we struggle with the "overview" and not the story itself. This session will examine storytelling and share how to tell personal stories.