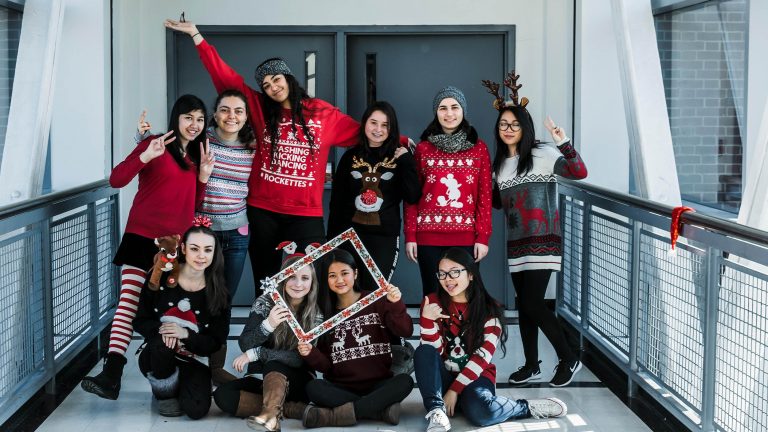 Photo by: Emina Bicic
Plan some holiday cheer with your yearbook staff
Written by Elizabeth Braden, CJE
Updated by Walsworth Yearbooks
Amid the rush of deadlines and the holidays, did someone forget to plan a staff activity to pause and mark the occasion? Maybe this is the year for some spontaneity.
Here are some ideas for both fun and meaningful activities that can still be done before the winter break.
Poinsettia Day is today, Dec. 12. One day this week, find or take images of poinsettias and practice altering them in Photoshop or InDesign for a design contest. Print and hang as winter decorations into February.
Today, ask staff members to bring in treats on the last day of school before the winter break. Goodies do not have to be homemade – Hostess or Little Debbie holiday snack cakes or cookies from the grocery store bakery are fine. If you have a microwave in your room, increase the sugar experience with instant hot cocoa.
Decorate your yearbook room! Maybe even turn it into a contest to see who on your staff can come up with the most creative holiday decoration ideas.
Go one evening between now and Dec. 23 and collect canned goods to donate to a local food pantry. If not a food pantry, find some kind of charitable cause to give back to around the holidays.
Have staffers pass out candy canes in the halls with information on how to purchase a yearbook.
Pick a day where every staff member wears an "ugly" holiday sweater. Turn it into a contest and the most outlandish sweater wins a prize.
Play a game during your treat time while honoring Bill of Rights Day on Dec. 15. Create a matching game to have staff match the number of the amendment to the rights it guarantees.
Eat dinner at an Asian restaurant before Christmas, in honor of the movie A Christmas Story.
Consider this serious activity to do while eating treats, meant to remind students how important they are to others: Have everyone write down three people whose lives would not be as good if they weren't on the staff, in honor of the movie It's a Wonderful Life.
The staff could have a Secret Santa or White Elephant gift exchange. Just keep it fun, simple and inexpensive. Put a price limit of $5 on the gifts.
Plan an outing where the entire staff goes ice skating. What could be better for team bonding?
Comments are closed.