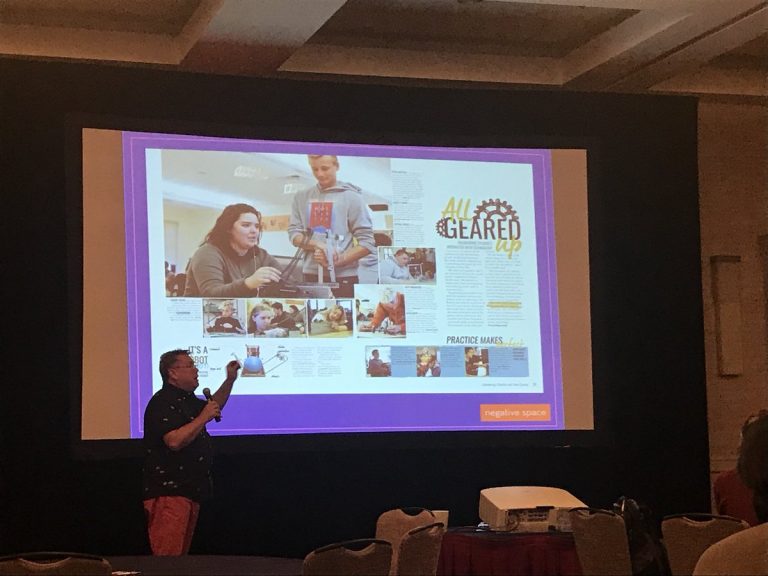 Jordan, Taylor talk design and storytelling on Adviser Academy day two
Written by Shiloh Scott
Day two of Walsworth's Adviser Academy in Kansas City kicked off on Tuesday with a presentation from journalism specialist Mike Taylor, CJE, and yearbook special consultant Jim Jordan, who shared the foundational elements that every great yearbook has in the session, "The Look. The Story. The Words. The Images."
The two experienced yearbookers explained "the look" elements that come together to form a great yearbook, starting with white space. Taylor and Jordan then laid out the fundamentals of good visual storytelling. They explained the many ways good yearbooks tell a story and the major elements they have in common.
The pair explained how to set up a focal point on a spread, using dominant elements. They explained the importance of fonts, cautioning against outdated type or fonts you don't love, and mixing too many fonts.
Taylor and Jordan also encouraged advisers to include spreads with a "wow factor," meaning spreads with visual variety, and spreads that avoided visual monotony. Every spread can have a slightly different look.
They then moved onto "the story" part of their presentation, and explained what coverage is used by great books, focusing on the people, with single-person feature stories becoming more common in recent years.
There are many different ways to tell a story, and Taylor and Jordan encouraged advisers to explore the options. They suggested finding alternative methods of storytelling.
Over the course of the presentation, they explained that the story should come first, then find the photos to accompany it. Does the book have equity? They told advisers to think about how and how much they're planning to cover students and student groups.
The pair said don't shy away from the national conversation, but find a way to localize it. They showed good examples of school who localized national stories, like the opioid epidemic.
They stressed the importance of building interview skills, which leads to a great story. Great stories are quote-driven, which comes from face-to-face interviews.
They explained to advisers how to go deeper in the story, beyond the who, what, when and where. The why and how make a great story. They also stressed the importance of telling the right story. If the football team has a mediocre season, that probably isn't the right story. The best story may be the story of a player who was recruited by colleges despite the mediocre season.
"The images" help with storytelling. Great photos tell a story. The right photo captures the moment. They briefly discussed good photo composition, and explained how to use cropping effectively.
Advisers then broke out into smaller sessions, with both a new adviser focus and an experienced adviser focus.