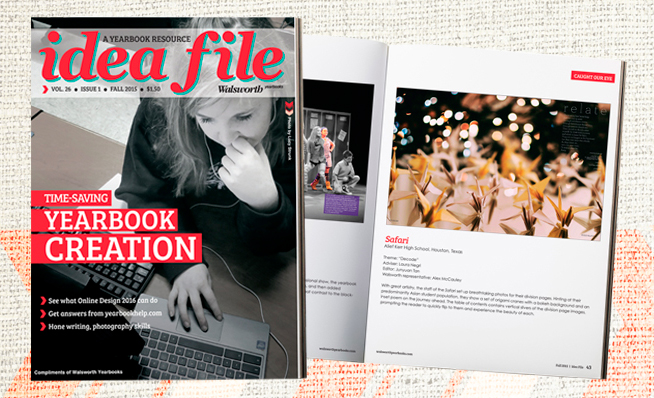 Get time-saving answers from the fall 2015 issue of Idea File magazine
Written by Evan Blackwell, CJE
The new fall 2015 issue of Idea File magazine will be arriving in schools this week, and this edition is filled with information that can help make your staff more efficient this year.
This issue covers a wide variety of topics, from giving a tour of our new Online Design 2016 program to providing tips on how your staff can use social media, to our popular Picture This column, this time covering action photography.
In addition, be sure to check out the feature written by Editor-in-Chief Elizabeth Braden on South Tahoe High School and how Principal Chad Houck revived the yearbook program and used it to build school spirit in his first year.
Plus the "Caught Our Eye" gallery, which is a regular feature in every issue of Idea File, has now been updated in the Design Showcase. The online version of Caught Our Eye even includes a few 2015 yearbooks that we couldn't fit in the magazine.
You can read the entire fall 2015 issue right now on our Idea File page. Enjoy!