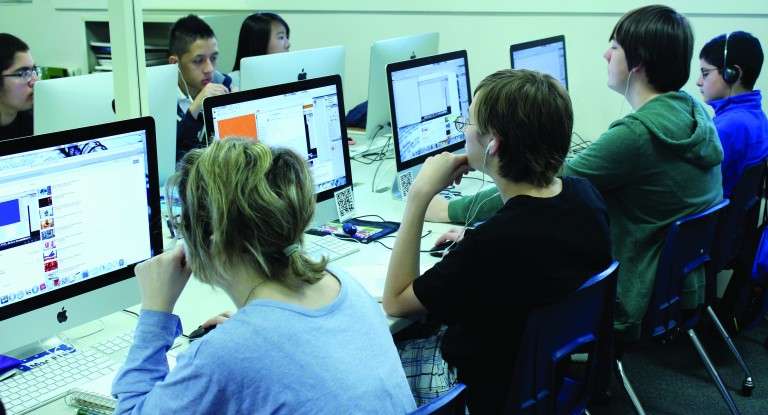 Teaching yearbook in a flipped classroom
Written by Lisa Birkley
After many years of being a yearbook adviser and journalism teacher, I was in a rut. At the end of the 2014 school year, I vowed I would revamp my curriculum and try to find new and exciting ways to introduce the world of journalism to my students. There was a buzz in the teaching community about a technique call the Flipped Classroom. I went to a conference called FlipCon14, and found just what I needed to make things interesting again.
In a traditional classroom, teachers prepare a lesson for the day and present all the information students will need to master the concept. Students are sent home to put this new concept into action. They bring the work back the next day and it is corrected.
However, what about the student who didn't quite grasp the concept? Or the student with a disability who needs to have the lesson presented again? These students cannot complete the assignment at home. Frustration sets in, and parents can't help because they did not see the lesson during class. The students get a low grade for the assignment.
The Flipped Classroom is built on the idea of using teacher-made videos to give the lesson to the student at home. The student then comes to class and practices this concept with the teacher right there. Students can watch the video as many times as they like, and parents and absent students can watch it, too. This sets up students for success.
To begin using the Flipped Classroom concept with my journalism students, I made some basic videos for them to watch at home, and we practiced the concepts in class together.
I started with the idea of theme for the yearbook. I made a really short video to show them themes that had been used in the past, examples of how to pull the theme together, and read them generic themes we could make our own. The next day, the students came in ready to discuss possible theme ideas together.
Another lesson I flipped was ad sales. Every year we try to sell yearbook ads, and every year the students don't seem to know what to say or where to go. This year, I made videos of different situations they might encounter when trying to sell ads to businesses. I went to a local business where I had some friends, and I videotaped myself trying to sell an ad.  We went from the sweet, clueless secretary to an owner who needed some anger management classes. I had the students watch the videos and be prepared to discuss them in class the next day.
Teaching journalistic writing is my favorite part of teaching journalism. For this, I went over one idea per video. For example, I used a video to teach leads for feature articles. The video included all the general information about why the introduction is so important, and I showed them great examples from past students' articles. The following day, they came in and started to craft their opening paragraph for the story they were assigned.
I also asked our librarian to make a video about citations for stories. She was happy to do that, and she shared that video with all the English classes. I also used some videos that I found on the web.
We also will be trying student videos. We do a unit about the history of journalism in the United States. Each student will be given a topic or a person to research and then they will create a video.  The students will watch one video a night and take notes for a big test when everyone is finished.
The most beneficial part of this for teachers is the time saved. When I am trying to get through a lesson at school, there can be so many distractions. At home the students can put on their headsets and focus on what is being said. On average, what used to take me 30 minutes in class can be done in a 10-minute video. I have so much more time to spend with the students assisting them and really using differentiated learning.
There are hundreds of ways to flip the classroom, but not every lesson can be flipped. I feel the students like the variety of flipping some things and being more traditional with other lessons.
It also helped that the teacher across the hall from me flipped her math class the same time I flipped journalism. It has really helped to have another person I can talk to about ideas, technology glitches and student push back.
One downside to the Flipped Classroom would be computer access. I am fortunate to work in a district where every child has a laptop provided through the school. However, at the conference I networked with many teachers who do not have this luxury, but found ways for the kids to get the videos. Some students stayed after school in a library or a classroom. Some teachers sent the video home on flash drives so students didn't have to use the Internet.
If you are thinking about trying the Flipped Classroom, start slow. Build your video library from year to year. The main thing is to try it and see how you and your students react to the new style, and then be flexible.
More information can be found in "Flip Your Classroom" by Jonathan Bergmann and Aaron Sams. I consider it essential reading before you try this teaching technique.  Many teacher websites offer video instructions and lessons on how to flip a classroom. If you get really ambitious, attend FlipCon15; see flippedlearning.org for more information.