Cyber Security Supervisor Josh Whiteaker enjoys solving cases and keeping our data secure
Written by Walsworth Staff
Josh Whiteaker
Cyber Security Department – Marceline, Missouri 
I am the Cyber Security Supervisor here at Walsworth. My responsibilities are focused on keeping Walsworth's systems and data secure from cyber threats. I have held many roles starting out in the press room as a helper. I have also been a press operator, Help Desk Technician, Help Desk Administrator, Network Administrator, and also Cyber Security Administrator.
Each day is different and can easily go down an unplanned route. We have multiple tools and processes in place which monitors for suspicious activity.
I have been with Walsworth for 16 years.
Walsworth was always a place you wanted to work if you planned on staying in this area after finishing school. I was given an opportunity in the press room and made the most of it and enjoy the small-town life.
Sometimes my job feels like I am a detective, which is pretty cool. I may have clues from system logs or network traffic which we have to piece together to paint a full picture of an action that took place. We investigate anomalies as they occur to prevent malicious activity or intrusion attempts. All in all, it makes you feel like you are trying to solve a case!
If I had a personalized coffee mug at work, it would say "Gone Phishing"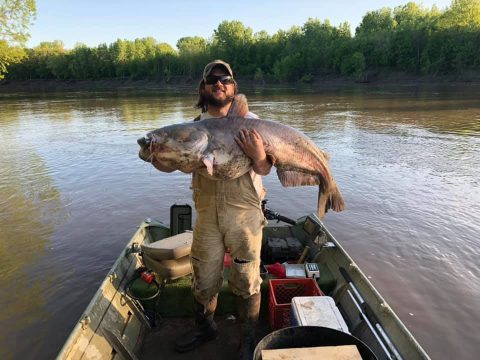 What makes me want to come to work every day? I would be a liar to say my bills are not the leading factor!
I will share a fun fact of why I started my career here in the press room. I came in to fill out a job application and was not sure what to put in the "department applying for" section. As I was filling it out, I overheard HR staff talking about how they needed a few workers for the press room. If not for eavesdropping, who knows where I would be!!
I have been married to my wife Elisha for 15 years. We have one daughter who is going to be a junior this year at Marceline High School. I unfortunately just lost my best friend, Buck, of 15 years who loved waterfowl hunting with me.
Outside of work, I enjoy fishing, deer hunting, waterfowl hunting, turkey hunting and playing music. I started playing drums when I was nine and started guitar around 12 years old.
Walsworth has played a major role in my career. I was given a chance in the press room as a helper and have worked hard to prove myself and my work ethic ever since. I had no IT experience when I was given a chance as a Help Desk Tech. I believe I was given this chance due to my hard work and attendance. Since then, I have been given opportunities for training and have received multiple certifications along the way. I am very thankful and consider myself blessed!
Giving back to the community can have multiple meanings. One way I give back is to just be a nice person, say hi and wave at people, hold a door open for someone and just smile! I have also played multiple gigs in the community over the years with my father-in-law's band (Steve Burgener- who is a digital press operator).
I would have to say my favorite memory at Walsworth is when I received the call from HR offering me the position of Help Desk Technician. I am grateful for that opportunity! Next would probably be me and my wife cleaning up on prizes at the company picnic!
Comments are closed.